Dan Baird and the Homemade Sin lanzan su quinto álbum de estudio titulado "Circus Life" previsto para el próximo 26 de noviembre de 2013 tras su homónimo "Dan Baird and Homemade Sin" (2008) banda compuesta por Dan Baird (voz y guitarra), Warner E. Hodges (guitarra y voz), Keith Christopher (bajo) y Mauro Magellan (batería).
"Circus Life" el nuevo disco de Dan Baird and the Homemade Sin está compuesto por doce nuevas canciones más un bonus track de cinco canciones, el álbum está producido y grabado en Nashville por Ben Strano (Kristen Cothron, Mike McClure Band, WT Feaster, etc.) habitual en los discos de Dan Baird.
Dan Baird & Homemade Sin se encuentra de gira por Europa presentando en nuevo disco "Circus Life", gira que comenzó el pasado 1 de noviembre en Alemania y concluye el 1 de diciembre en Londres.
Escucha "Circus Life" de Dan Baird and the Homemade Sin.
Dan Baird creador de The Georgia Satellites, una de las bandas más importantes dentro de la historia del Rock en Estados Unidos, en el que la legión de seguidores es inmensa. El álbum "In the Land of Salvation and Sin" (1989) y aquella gira junto a Tom Petty & The Heartbreakers durante el verano de 1987 los catapultaba a lo más alto como una de las mejores bandas del planeta.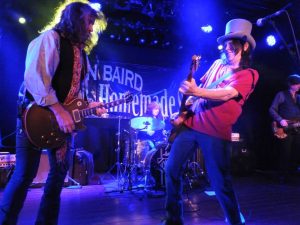 The Georgia Satellites teloneros de una gira en con Tom Petty and The Heartbreakers llamada "Rock'N' Roll Caravan' 87", también junto a The Del Fuegos, será recordada como una de las mejores de Tom Petty. La velocidad musical, el duelo de guitarras y la forma de vestir de cuatro jóvenes macarras norteamericanos utilizando los mismos acordes del Rock and Roll de toda la vida hicieron que su primer disco, homónimo, "Georgia Satellites" (1986) alcanzase el t0p 5 de ventas nacional y el número 2 del Billboard en 1986, siendo su primer disco.
"Keep your hand to Youself" abría aquel disco, como dato anecdótico después de "Livin' on a Prayer" de Bon Jovi fue la canción que más se escuchó en todas las emisoras norteamericanas y llegó a ser la número dos de aquel 1986.
Dan Baird es también uno de los pioneros del Cow punk en Estados Unidos o el Country Punk con muchos ribetes sureños, junto a legendarios nombres como Jason & The Scorchers o The Long Riders a mediados de los años ochenta y que luego en los noventa se manifestaría como Alt. Country o Country alternativo.
Rick Rubin produciría el primer disco en solitario de Dan Baird en 1991 con aquel  "Love Songs for the Hearing Impaired".
Dan Baird ha sido componente de bandas y es de banadas como The Yayhoos, The Bluefields, junto a Bobby Keys, el saxofonista de The Rolling Stones, con "Bobby Keys & The Suffering Bastards".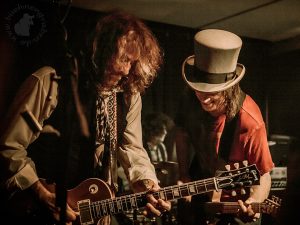 Dan Baird coleccionista de objetos y aparatos musicales, tiene entre su gran colección de guitarras y amplis a válvulas, una original Fender Esquire del 57 que perteneció a Steve Marriott, frontman, voz y gutarrista de Small Faces y Humble Pie, comprada en 1983, y que suele llevarla de gira.
Tracklist de "Circus Life", el nuevo disco de Dan Baird and Homemade Sin.
1. Fall Apart On Me
2. Little Darlin'
3. All The Same
4. Thousand Little Pieces
5. Where'M I Gonna Lay My Head
6. Break Down And Cry
7. Think It's Time
8. Baby This
9. Long Way Down
10. Outlivin'
11. Face Of Love
12. Wear And Tear
Bonus tracks:
-All The Same
-Baby This
-Outlivin´
-Where´m I Gonna
-Thousand Little Pieces