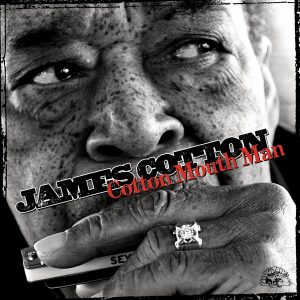 James Cotton, apodado como el «Superharp» (súper armónica), es uno de los más grandes armonicistas de la historia, publica «Cotton Mouth Man», nuevo disco de estudio el 7 de mayo con trece nuevas canciones, cinco de ellas co-escritas con el percusionísta y productor Tom Hambridge, y en el colaboran en nuevo álbum grandes nombres como Gregg Allman, Joe Bonamassa, Ruthie Foster, Warren Haynes, Delbert McClinton, Keb Mo y Chuck Leavell.
Escucha el primer adelanto del disco de James Cotton «Cotton Mouth Man».
James Cotton es uno de los nombres clave del Blues y el Rock, artífice junto a Muddy Waters y el conocido Blues de Chicago,caracterizado por un sonido fuertemente eléctrico, fueron el puente entre el Blues y el Rock, llegando incluso James Cotton a tocar con The Rolling Stones, Eric Clapton, Grateful Dead, Led Zeppelin o Janis Joplin, B.B. King, Santana, Steve Miller, Freddie King, Todd Rundgren, o Johnny Winter, entre otros.
Escucha «Cotton Mouth Man» de James Cotton.
James Cotton alumno de cantante y armonicista también Sonny Boy Williamson II y fue miembro de la banda de Muddy Waters durante doce años, en la década de los años 50 y 60, banda compuesta por Ernest «Big» Crawford, «Baby Face» Leroy Foster y Johnny Jones.
James Cotton, de 77 años de edad, junto a Sonny Boy Williamson II , Little Walter y Big Walter Horton, cambiaron el Blues y revolucionaron el mundo de la armónica durante los años 50 y 60.
James Cotton perteneció a los músicos de sesión de Sun Records, grabó con Johnny Winter y Muddy Waters esa maravilla llamada «Hard Again« en 1977, ganó un Grammy por su disco «Deep In The Blues» en 1996, entró como miembro del Blues Hall Of Fame en el 2006, en el 2010 era homenajeado por la Casa Blanca, y a mediados de los años 90 superó un cáncer de garganta.
James Cotton desde el año 2000 continúa haciendo giras y conciertos con su banda hibitual compuesta por Tom Hambridge (batería), Rob McNelley (guitarra), Chuck Leavell (teclados), y Glenn Worf (bajo).
Artículo sobre el concierto tributo a Hubert Sumlin en el que participó James Cotton.
Tracklist de «Cotton Mouth Man» de James Cotton
1. Cotton Mouth Man
James Cotton – Harmonica
Tom Hambridge – Drums, Background Vocals
Joe Bonamassa – Lead Guitar
Rob McNelley – Rhythm Guitar
Tommy MacDonald – Bass
Darrell Nulisch – Vocals
2. Midnight Train
James Cotton – Harmonica
Tom Hambridge – Drums
Chuck Leavell – Wurlitzer Piano
Tom Holland – Guitar
Noel Neal – Bass
Gregg Allman – Vocals
3. Mississippi Mud
James Cotton – Harmonica
Tom Hambridge – Drums, Percussion
Chuck Leavell – Piano
Rob McNelley – Guitar
Glenn Worf – Upright Bass
Keb Mo – Vocals
4. He Was There
James Cotton – Harmonica
Jerry Porter – Drums
Chuck Leavell – Piano
Tom Holland – Guitar
Noel Neal – Bass
Darrell Nulisch – Vocals
5. Somethig for Me
James Cotton – Harmonica
Tom Hambridge – Drums, Percussion
Chuck Leavell – Piano
Tom Holland – Guitar
Noel Neal – Bass
Warren Haynes – Guitar, Vocals
6. Wrapped Around my Heart
James Cotton – Harmonica
Tom Hambridge – Drums, Percussion
Chuck Leavell – Hammond B3 Organ
Rob McNelley – Guitar
Glenn Worf – Bass
Ruthie Foster – Vocals
7. Saint on Sunday
James Cotton – Harmonica
Tom Hambridge – Drums
Chuck Leavell – Wurlitzer Piano
Rob McNelley – Guitar
Glenn Worf – Bass
Darrell Nulisch – Vocals
8. Hard Sometimes.
James Cotton – Harmonica
Tom Hambridge – Drums
Chuck Leavell – Piano
Rob McNelley – Guitar
Glenn Worf – Upright Bass
Delbert McClinton – Vocals
9. Young Bold Women
James Cotton – Harmonica
Tom Hambridge – Drums, Percussion
Chuck Leavell – Hammond B3 Organ
Rob McNelley – Guitar
Glenn Worf – Upright Bass
Darrell Nulisch – Vocals
10. Bird Nest on the Ground
James Cotton – Harmonica
Tom Hambridge – Drums, Percussion
Chuck Leavell – Piano
Tom Holland – Guitar
Noel Neal – Bass
Darrell Nulisch – Vocals
11. Wasn't My Time to Go
James Cotton – Harmonica
Tom Hambridge – Drums
Chuck Leavell – Wurlitzer Piano
Rob McNelley – Guitar
Glenn Worf – Upright Bass
Keb Mo – Vocals, Guitar
12. Blues is Good for You
James Cotton – Harmonica
Tom Hambridge – Drums, Percussion
Chuck Leavell – Keyboards
Rob McNelly – Guitar
Glenn Worf – Bass
Darrell Nulisch – Vocals
13. Bonnie Blue
James Cotton – Harmonica, Vocals
Colin Linden – Resonator Guitar