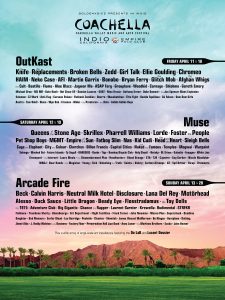 Coachella Valley Music and Arts Festival, conocido popularmente como el festival de Coachella que se celebra en Indio, California entre el 11 y el 20 de abril de 2014 anuncian su cartel para esta decimoquinta edición, para nosotros el mejor festival del mundo junto con el SXSW en Austin, Texas durante dos fines de semanas con nombres como Motörhead, Muse, Queens Of The Stone Age, Arcade Fire, Beck, Outkast, The Cult, The Replacements, Bryan Ferry, Neko Case, Trombone Shorty, Bombino, J Roddy Walston, The Afghan Whigs o The Jon Spencer Blues Explosion entre otros.
Las entradas para asistir al festival Coachella en California se podrán a la venta el día 10 de enerto a través de su web oficial a un precio general de 375 dólares (276 euros). Durante las últimas ediciones las entradas, una media de 110.000, se han agotado a las tres horas de ponerse a la venta.
Para presenciar en directo el festival Coachella 2014 desde California, clica en éste párrafo.
Horarios de retransmisión del festival con horas en California. Sumar 8 horas más GMT+1.
Viernes 11 de abril:
03:30 pm – Flatbush Zombies
03:30 pm – ZZ Ward
03:30 pm – Jagwar Ma
04:15 pm – Grouplove
04:20 pm  – Wye Oak
05:15 pm  – MS MR
05:20 pm  – AFI
06:00 pm  – Bastille
06:05 pm  – ASAP Ferg
06:10 pm  – GOAT
07:00 pm  – The Afghan Whigs
07:00 pm – Kate Nash
07:50 pm  – Neko Case
08:15  pm – Woodkid
08:40  pm – Ellie Goulding
09:05 pm  – Chromeo
09:30  pm – Broken Bells
09:30 pm  – Carnage
09:55 pm  – Bryan Ferry
10:30  pm – Girl Talk
11:00 pm  – The Cult
11:20  pm – Martin Garrix
12:00  pm – Anti-Flag
12:20  pm – Zedd
Sábado 12 de abril:
03:30 – White Lies
03:30 – Bear Hands
03:30 – Foxygen
04:10 – CHVRCHES
04:15 – Temples
04:30 – Ty Segall
05:20 – The Head and the Heart
05:30 – Bombay Bicycle Club
06:10 – City and Colour
06:30 – Washed Out
07:00 – Capital Cities
07:05 – Future Islands
07:55 – Lorde
08:00 – Warpaint
08:25 – Dillon Francis
08:45 – Foster the People
09:00 – Pixies
09:25 – Fatboy Slim
09:40 – Queens of the Stone Age
10:25 – Empire of the Sun
10:35 – Pharrell Williams
10:45 – Sleigh Bells
11:25 – Skrillex
11:35 – Pet Shop Boys
11:35 – Muse
Domingo 13 de abril:
03:30 – Preservation Hall Jazz Band
03:30 – J. Roddy Walston & The Business
03:30 – Surfer Blood
04:15 – Trombone Shorty & Orleans Avenue
04:30 – Frank Turner
05:10 – Fishbone
05:30 – Superchunk
06:00 – Blood Orange
06:00 – Flosstradamus
06:30 – The 1975
07:15 – Little Dragon
07:40 – The Naked and Famous
07:50 – Alesso
08:30 – Daughter
08:30 – Calvin Harris
09:00 – Big Gigantic
09:25 – Beck
09:55 – Adventure Club
10:10 – Nas
10:20 – Arcade Fire
10:45 – Duck Sauce
11:10 – Disclosure
Horarios del festival Coachella viernes 18, sábado 19 y domingo 20 de abril 2014.
Coachella Festival está ubicado en la ciudad agrícola de Indio en California, al sureste de Los Angeles en dirección hacia Méjico, muy cerca de Palm Springs, del gran lago salado de Salton Sea y del maravilloso parque nacional del Joshua Tree.
Coachella festival reparte durante dos fines de semana del mes de abril los siguientes artistas y bandas.
Outkast, The Knife, The Replacements, Broken Bells, Zedd, Girl Talk, Ellie Goulding, Chromeo, Haim, Neko Case, AFI, Martin Garrix, Bonobo, Bryan Ferry, The Glitch Mob, The Afghan Whigs, The Cult, Bastille, Flume, Aloe Blacc, Jagwar Ma, A$AP Ferg, Grouplove, Woodkid, Carnage, Shlohmo, Gareth Emery, Michael Brun, MS MR, Kate Nash, Hot Since 82, Damian Lazarus, GOAT, Nina Kraviz, Anthony Green, Duke Dumont, The Jon Spencer Blues Explosion, Solomun, ZZ Ward, Anti-Flag, Caravan Palace, Flatbush Zombies, Deorro, Waxahatchee, Title Fight, Davide Squillace, DJ Falcon, Dum Dum Girls, Austra, Tom Odell, Dixon, Wye Oak, Crosses, Mako, The Preatures, The Bots, y Gabba Gabba Heys.
Muse, Queens of the Stone Age, Skrillex, Pharrell Williams, Lorde, Foster The People, Pet Shop Boys Shop Boys, MGMT, Empire of The Sun, Fatboy Slim, Nas, Kid Cudi, The Head and the Heart, Sleigh Bells, Cage The Elephant, City and Colour, Chvrches, Dillon Francis, Capital Cities, The Naked and Famous, Temples, Mogwai, Warpaint, Solange, Washed Out, Future Islands, Ty Segall, DARKSIDE, Banks, Tiga, Bombay Bicycle Club, Holy Ghost!, Netsky, RL Grime, Galantis, Foxygen, White Lies, Graveyard, the Internet, Laura Mvula, The Dismemberment Plan, Headhunterz, Blood Orange, GTA, TJR, Cajmere, Guy Gerber, Nicole Moudaber, MAKJ, Bear Hands, the Magician, Young & Sick, Unlocking the Truth, Saints of Valory, Carbon Airways, UZ, Syd Arthur, Bicep, y Drowners
Arcade Fire, Beck, Calvin Harris, Neutral Milk Hotel, Disclosure, Lana Del Rey, Motörhead, Alesso, Duck Sauce, Little Dragon, Beady Eye, Flosstradamus, The Toy Dolls, The 1975, Adventure Club, Big Gigantic, Chance The Rapper, Laurent Garnier, Krewella, Rudimental, STRFKR, Fishbone, Trombone Shorty, AlunaGeorge, Art Department, Flight Facilities, Frank Turner, John Newman, Maceo Plex, Superchunk, Bombino, Daughter, Bad Manners, Surfer Blood, Lee Burridge, Poolside, Classixx, Showtek, James Vincent McMorrow, Bo Ningen, Aeroplane, Ratkin, Jhené Aiko, J. Roddy Walston and the Business, Factory Floor, Preservation Hall Jazz Band, Anne Lunoe, the Martinez Brothers, Scuba, y John Beaver.