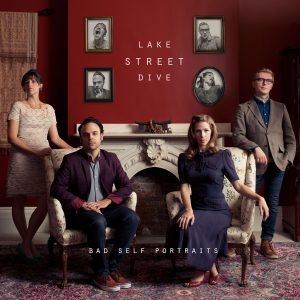 Lake Street Dive, el cuarteto de Pop Soul Rock & Roll y Doo Woop Jazz provenientes desde Brooklyn publican su tercer y radiante álbum de estudio titulado "Bad Self Portraits" en febrero del 2014, en el que la voz de su poderosa cantante Rachael Price, Bridget Kearney al bajo, Mike Calabrese a la batería y Mike "McDuck" Olson a la guitarra y trompeta cautivan con sus canciones que transpiran toda esa maravillosa época de Motown, Stax, Muscle Shoals y esa brisa a The 5 Royales, Manhattan Transfer, Carole King, The Shirelles, Hall & Oates o Dusty Springfield.
Lake Street Dive originarios de Boston pero actualmente residiendo en Nueva York saltaron a la fama en el 2012 con un vídeo colgado en Youtube de una versión de los Jackson 5 en las que en pocas horas consiguió traspasar la barrera del millón de visitantes.
Lake Street Dive inicialmente comenzó como una banda Country en el 2004, debutando con "In this episode" (2006), publicando varios Ep's, algún directo y su segundo álbum de estudio en el 2010 con "Lake Street Dive".
Escucha "Bad Self Portraits" el nuevo disco de Lake Street Dive.
La línea ascendente de Lake Street Dive es imparable y las giras y colaboraciones con otros grandes artistas hacen del grupo y de su nuevo disco,  "Bad Self Portraits", como uno de los mejores del año. La crítica musical norteamericana ya los compara como los nuevos Alabama Shakes y nosotros lo aprobamos, la voz de Rachael Price es una auténtica delicia.