Azkena Rock Festival 2016 en su decimoquinta edición ha dado a conocer los horarios tras el cierre de su cartel confirmando también la cancelación del concierto de Buffalo Killers por problemas de salud, que será reemplazado por Jean Beauvoir. Las actuaciones gratuitas en la Plaza de La Virgen Blanca, correrán a cargo el viernes 17 de junio de Julián Maeso y el sábado 18 de junio de Luke Winslow-King, ambas actuaciones a partir de las 13:30 horas.
El día antes del comienzo del Azkena Rock festival en la plaza de la Virgen Blanca y en el Jardín de Falerina-Hor Dago! dará comienzo la 4ª edición del Osteguna Rock con cinco potentes bandas seleccionadas entre ellas Imperial Jade, Daze Of Dawn, The Sewergrooves, Jodie Cash Fingers y Dr. Infierno. Fiestón de rock´n´roll, gratuito y en el centro de Vitoria-Gasteiz.
The Who, The Hellacopters  por Primal Scream (cancelan su concierto en el Azkena Rock), Lucinda Williams, Blackberry Smoke, Vintage Trouble, Refused, Radio Birdman, Supersuckers, Gutterdämmerung feat. Henry Rollins, Danzig, Imelda May, The Scientists,Los Brazos, The Milkyway Express, Marky Ramone's Blitzkrieg, The Coup, Buffalo Killers, Luke Winslow-King, The London Souls, Jared James Nichols, Cobra, Raveneye, The Flying Scarecrow,Daniel Romano, 091, Fields of the Nephilim, The Vintage Caravan y Sumisión City Bluesque serán los grupos que estarán presentes en esta edición del Azkena Rock en tres escenarios denominados Lemmy Kilmister David Bowie y Scott Weiland como tributo a estos grandes artistas.
Horarios del Azkena Rock Festival 2016
Viernes 17 de junio
Virgen Blanca
13:30h Julián Maeso
(actuación gratuita)
Apertura de puertas: 16:45h
Escenario Lemmy Kilmister
17:15 The Flying Scarecrow
18:40 Daniel Romano
20:30 Lucinda Williams
23:10 Primal Scream (cancelan su concierto en el Azkena Rock) The Hellacopters
01:55 Gutterdämmerung feat. Henry Rollins
Escenario David Bowie
17:55 The London Souls
19:30 Vintage Trouble
21:55 Blackberry Smoke
0:30 Danzig
Escenario Scott Weiland
17:50 Jared James Nichols
19:00 The Sex Organs
20:15 Los Brazos
21:45 Jean Beauvoir
0:25 Luke Winslow-King
01:50 Dj Bone
03:30 Head & Banger (DJs)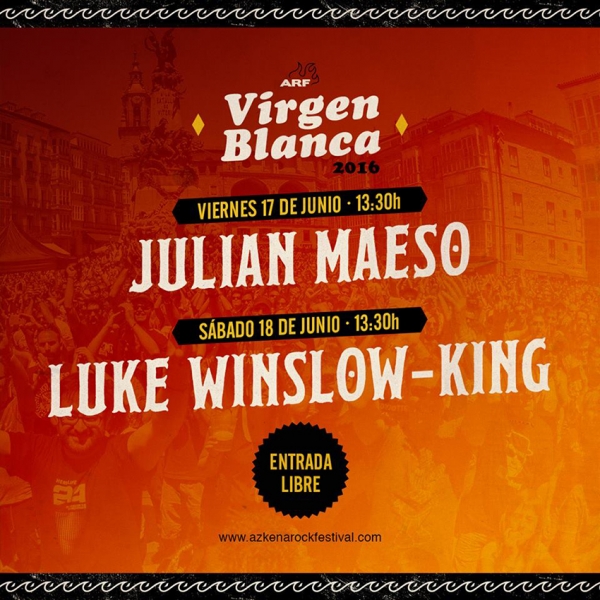 Sábado 18 de junio
Virgen Blanca
13:30h Luke Winslow-King
(actuación gratuita)
Apertura de puertas: 16:45h
Escenario Lemmy Kilmister
17:15 Submisión City Blues
18:40 Raveneye
20:40 Imelda May
23:00 The Who
02:00 Supersuckers
Escenario David Bowie
17:55 Cobra
19:25 Radio Birdman
21:45 Fields of The Nephilim
0:35 Refused
Escenario Scott Weiland
17:50 The Milkyway Express
19:00 The Vintage Caravan
20:15 The Scientists
21:45 091
0:30 Marky Ramone's Blitzrieg of 40 years of punk
01:50 Mr. Fine Wine (DJ)
03:30 Chulina Diablo Dee Jay
El precio de los bonos del Azkena Rock Festival para esta edición cuestan 95 euros, mientras que las entradas de día se pueden comprar por 60 euros. Para acampar en el recinto, habrá de pagar 10 euros más en ambos casos