The James Hunter Six confirman 3 fechas para marzo de 2018 para presentar su nuevo disco «Whatever It Takes» que publicará en febrero también de 2018. Hunter y su banda The James Hunter Six regresan con nuevo disco tras su anterior trabajo publicado el año pasado "Hold On!".
Escucha el primer adelanto del nuevo disco de The James Hunter Six «I Got Eyes»
The James Hunter Six nuevamente graban a través de Daptone Records, tercer disco para el sello discográfico en el que acaba de enrolarse, grabado en los estudios Penrose Recorders con Gabriel Roth (Amy Winehouse, Sharon Jones and the Dap-Kings, Booker T Jones, Lee Fields, Charles Bradley) conocido como Bosco Mann, productor del disco y propietario del sello.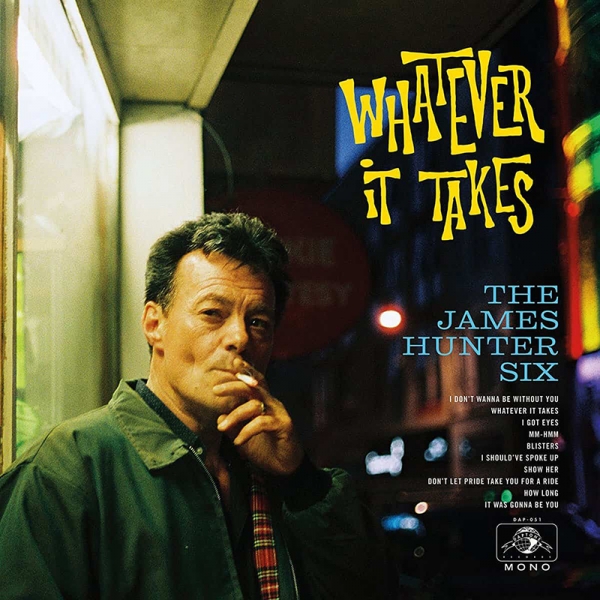 James Hunter tras sus excelentes "Minute by Minute", lanzado en 2013 después de 5 largos años de su otros magnífico "The Hard Way" (2008), por parte de este brillante cantante británico de Rythm & Blues, Soul y Blues envejecido, de los años 50's y 60's, al más puro estilo del mismísimo Sam Cooke, combinándolos con rumba, sonidos jamaicanos y Ska, en definitiva, puro y auténtico Soul de vena hinchada de este implacable amante de la música de James Brown, aunque Sam Cooke y Wilson Pickett son sus otras dos referencias.
Escucha el nuevo disco de The James Hunter Six «Whatever It Takes»
Van Morrison descubrió a James Hunter mientras tocaba el segundo en un pequeño club en Londres , a partir de entonces Morrison colaboró en el disco debut de James Hunter en 1996 "…Believe What I Say" junto con otra grande del Soul, la "Mama Soul" y maravillosa Doris Troy.
Listado de canciones de «Whatever It Takes», nuevo disco de The James Hunter Six
1. I Don't Wanna Be Without You
2. Whatever It Takes
3. I Got Eyes
4. MM-Hmm
5. Blisters
6. I Should've Spoke Up
7. Show Her
8. Don't Let Pride Take You For A Ride
9. How Long
10. It Was Gonna Be You
Fechas de la gira española de The James Hunter Six en marzo de 2018:
23 marzo en Madrid, The Secret Social Club
24 marzo en Miranda de Ebro, Ebroclub
25 marzo en Badalona, Blues i Ritmes