"Hay un viejo amigo al que una vez le oí decir algo que me llegó al corazón y empezaba así, nací junto al río en una pequeña carpa y como el río ha estado fluyendo desde entonces, él dijo que desde hacía un largo tiempo venía, pero sé que mi cambio va a llegar, oh yeah".
Sam Cooke hubiese cumplido hoy 83 años, el norteamericano es sin lugar a dudas el rey del Soul y Gospel, junto a Otis Redding y Aretha Franklin y el gran impulsor de un género como el Soul en tiempos difíciles y de segregación social en los años 50 y 60 en Estados Unidos, además de fundar su propio sello discográfico SAR y ser un gran activista dentro del movimiento de los derechos civiles y en el que con apenas 33 años de edad en un lamentable incidente murió asisando en manos de la dueña de un motel, quien supuestamente le disparó en confusas circunstancias en diciembre de 1964.
Sam Cooke canta desde las entrañas con su incomparable voz, tenía la rara habilidad de conseguir hacer gospel de la manera más pura real, limpio y directo, el gospel condujo a Sam Cooke a sus mayores éxitos, de la misma manera en que lo hizo antes con Ray Charles y luego con Otis Redding.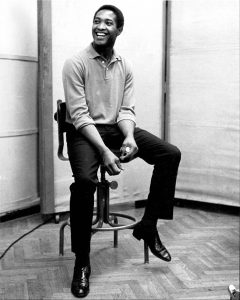 You Send me, A Change is Gonna Come, Touch the Gem of  his garment, Woderful World, Ain't that Good News, Chaing Gang, Only Sixteen, Bring It On Home To Me, Twistin' the Night Away, Somebody Have Mercy, Another Saturday Night o Cupid son algunos de ejemplos de un hombre con muchísimo talento como Sam Cooke, que influiría a personajes tan importantes como Stevie Wonder, Isaac Hayes, Bobby Womack, Smokey Robinson, Solomon Burke, Marvin Gaye, Rod Stewart, John Lennon, Bruce Springsteen, The Animals y otras figuras del Soul, Funk, Rock y Rhythm & Blues.
Sam Cooke conseguiría  29 éxitos desde 1957 hasta 1965, tras abandonar a su banda de Gospel The Soul Stirrers y el sello discográfico, Specialty con Little Richard como su gran estrella.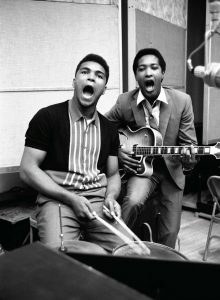 Unos meses antes de ser asesinado Sam Cooke, un 25 de febrero de 1964 la leyenda de un boxeador, Clasius Clay (Muhammad Ali), derrotaba a Clay derrotó a Sonny Liston, Sam Cooke fue uno de los primeros que subió al ring a felicitarlo, la leyenda de Mohamed Alí había comenzado. Su canción "A Change is Gonna Come" (un cambio va a llegar) sería ese año un gran éxito. Sam Cooke se inspiró en esta canción alegato a los derechos civiles en Estados Unidos en "Blowin' in the Wind" de un joven Bob Dylan en 1963.
"Hubo ocasiones en las que pensé que no resistiría mucho más, pero de algún modo ahora mismo creo que soy capaz de seguir adelante, te digo que ha sido mucho tiempo y ha sido un viaje cuesta arriba todo el camino, pero yo sé, yo sé, yo sé, que el cambio va a llegar".
Dedicado a Lucas, Sandra y Carlos Esteban.