Mick Jagger junto con otros monstruos del Blues contemporáneo darán un concierto en La Casa Blanca, residencia habitual del presidente de Estados Unidos, Barack Obama y su esposa Michelle, a partir de las 00:20 horas de la noche (hora canaria), hoy 22 de febrero. (7:20 p.m. ET).
La nómina de grandes estrellas que actuarán esta noche son,  Mick Jagger, B.B. King, Buddy Guy, Gary Clark Jr., Derek Trucks, Jeff Beck, Booker T.,  Keb Mo, Susan Tedeschi, Warren Haynes, Troy "Trombone Shorty" Andrews y Shemekia Copeland.
El concierto está incluido en el programa de eventos llamado "In Perfomance at The White House" que se viene celebrando desde el año 1978, cuando Jimmy Carter llevaba la administración norteamericana, siendo el East Room y el West Wind sus principales lugares de celebración. El programa engloba cada género de actuación artística que va desde el Pop, Country, Rock, Blues, Jazz, Gospel, Teatro y Danza.
El evento de esta noche llamado "In Perfomance at The White House: Red, White and Blues" rendirá un emotivo homenaje al Blues que va desde el Delta del Mississippi, WestSide y SouthSide de Chicago, hasta su profundas raíces provenientes de África y sus esclavos, siendo inmensamente influyentes dentro la música moderna norteamericana como el Soul o el Rock'n'Roll.
El último evento celebrado tuvo lugar el pasado 24 de febrero de 2011, dedicado al sonido Motown (The Motown Sound), que contó con Stevie Wonder, Smokey Robinson o John Legend.

Watch The Motown Sound on PBS. See more from In Performance at The White House.
Entre las series que pasarán a la historia está el premio Gershwin de la Biblioteca del Congreso de los Estados Unidos (The Library of Congress Gershwin Prize for Popular Song) a Sir Paul McCartney por su dedicación a la música Pop. En aquella ocasión compartieron escenario Elvis Costello, Herbie Hancock, Dave Grohl o Stevie Wonder.

Watch Celebrating the Music of Paul McCartney on PBS. See more from In Performance at The White House.
Sin duda el mejor evento fue el dedicado a la música del movimiento de los derechos civiles (Music from The Civil Rights Movement), en el que estuvieron Bob Dylan, Joan Baez, John Mellencamp, Smokey Robinson y The Freedom Singers entre muchos otros.

Watch A Celebration of Music From the Civil Rights Movement on PBS. See more from In Performance at The White House.
Dirty Rock te ofrece pinchando aquí la oportunidad de revisar todos los eventos, año por año, el presidente que dirigía en ese momento el país y los artistas invitados cada noche.
La actuación de esta noche, dedicada al Blues, será presentada por Taraji P. Henson (actriz), y dirigida por Booker T. Jones junto a su propia banda para este evento: Bobby Avila (bajo), Jesse Johnson (guitarra), Narada Michael Walden (batería), Ernie Fields Jr. (saxo), Freddie Hendrix (trompeta) y Fred Wesley (trombón).
Booker T and the MG's, es uno de los grandes, reciente ganador de otro Grammy que suma a otros muchos, es una eminencia en el sonido Stax, previamente llamado Satellite Record Label.
B.B. King, "Tesoro nacional" para los norteamericanos; Mick Jagger, otro icono y tesoro de la música y que se inició en The Rolling Stones y la música gracias al Blues; Buddy Guy, uno de los pioneros del Blues del WestSide de Chicago, músico indiscutible de la Chess Records y gran influencia para Jimi Hendrix, entre otros.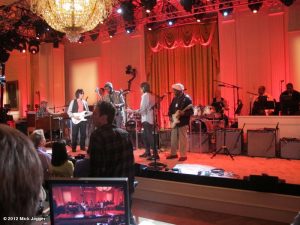 Gary Clark Jr. es una de las debilidades de Dirty Rock desde hace unos años, natural de Austin, su Blues es el más incendiario en la actualidad; Derek Trucks, sobrino de Butch Trucks de The Allman Brothers Band, uno de los fenómenos del Blues más reciente, casado con Susan Tedeschi, recientes ganadores del Grammy al mejor disco de Blues; Jeff Beck, otro maestro del género e insuperable, capaz de fusionar el Blues con cualquier género musical.
Keb Mo es significado del Blues del Delta, como Beck experimenta y une géneros como nadie sabe hacerlo.
Susan Tedeschi es otra de las debilidades de Dirty Rock, su voz y maneras de tocar el Blues, la hacen única.
Warren Haynes, otro grande del Blues que combina como casi nadie el Rock y el Soul más musculoso, su grupo Gov't Mule es una auténtica locomotora musical, junto a Derek Trucks pertenece también a The Allman Brothers Band.
Troy "Trombone Shorty" Andrews, músico de sesión magnífico, en sus discos combina el Blues con el Funk, Soul y el Jazz de Nueva Orleáns.
Y finalmente Shemekia Copeland, hija del legendario bluesman tejano Johnny Clide Copeland, ha sido galadornada con numerosos premios y compartido escenario con los más grandes del género, su voz nos recuerda a la Etta James mas furiosa.
Puedes ver el concierto aquí, a partir de las 00:20 horas de la noche (hora canaria), hoy 22 de febrero. (7:20 p.m. ET) y aquí.
El 27 de febrero también puedes ver repetido el evento a través de PBS (02:00 hora canaria, 9:00 p.m.ET), clicando aquí.
Nuestro pequeño homenaje al Blues y a todos sus seguidores y amantes, "When you ain't got no money, YOU GOT THE BLUES, you ain't got no money to pay your house, YOU STILL GOT THE BLUES, Anytime you think in Evil, you think about the BLUES"