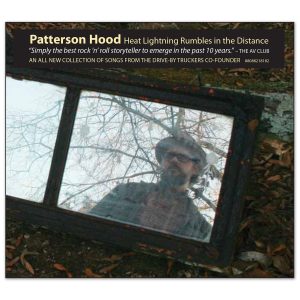 Patterson Hood, ese genio y compositor de grandes historias de los Drive By Truckers, vuelve el 11 de septimebre a presentarnos su tercer disco en solitario "Heat Lightning Rumbles In The Distance" tras aquellos dos magníficos "Killers and Stars" (2004) y "Murdering Oscar (And Other Love Songs)" (2009).
Patterson Hood estará de gira por España y Europa por primera vez en solitario, desde el próximo 4 de noviembre en Alemania.
En España, Patterson Hood tiene cuatro fechas en noviembre, Barcelona (6 noviembre Sidecar), Madrid (7 noviembre Teatro Lara), Ourense (8 noviembre Cafe Y Pop Torgal),  y San Sebastian (9 noviembre Teatro Victoria Eugenia), su gira europea concluye el 18 de noviembre en Dublín. Patterson Hood estará respaldado en su nueva gira europea por Craig Finn (The Hold Steady) y Will Johnson (Centro-matic).
Patterson Hood tenía en mente realizar un libro autobiográfico o relatos de un periodo de su vida, a medida que iba escribiéndolo, esas historias se iban convirtiendo en canciones, según cuenta el propio Patterson entre febrero y junio de 2011, definitivamente en "Heat Lightning Rumbles In The Distance", su tercer disco en solitario.
El disco "Heat Lightning Rumbles In The Distance" consta de doce maravillosas historias que hablan de depresión, pistolas cargadas para el suicidio,, historias retorcidas e irónicas, gentes que caen en desgracia económica, lucha de clases, "borrachuzos", desorden, y todos esos temas que son denominador común en su banda Drive by Truckers a su inseparable cuatrero Mike Cooley.
El disco está co-creado por el productor habitual de los Drive by Truckers, David Barbe, que también toca el bajo en alguna de las canciones del disco. David Barbe es el cantante de la legendaria banda Sugar y productor de muchos discos del grupo de Jay Farrar, Son Volt, el ex de Jeff Tweddy ( WIlco) en Uncle Tupelo.
Su padre, David Hood,  músico de sesión para los famosos estudios FAME Studios, uno de los fundadores del  grandioso estudio de grabación Muscle Shoals Sound Studio en Alabama donde se grabaron muchas canciones que pasarán a la historia de nombres como The Rolling Stones, Trafic, Willie Nelson, Bob Dylan, Rod Stewart, Bob Seger, Lynyrd Skynyrd, Cher o The Black Keys entre otros, también participa en el disco de su hijo Patterson Hood.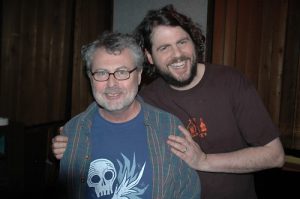 En "Heat Lightning Rumbles In The Distance" colaboran su compañeros de Drive by Truckers Mike Cooley, Jay Gonzalez, Brad Morgan y John Neff al igual que Scott Danbom y Will Johnson de Centro-matic y Kelly Hogan.
Patterson Hood descubridor de talentos como Alabama Shakes y defensor de causas perdidas como su última campaña contra grandes corporaciones y políticos en su ciudad natal, Athens en Alabama, en que junto al colectivo social llamado "Protect Downtown Athens" , salvar una parte importante del casco antiguo de la ciudad,  de la contrucción de centros comerciales y viviendas.
Escuchando el nuevo disco de Patterson Hood, de nuevo nos encontramos de nuevo con esa América profunda, Georgia, ese lugar oscuro, cruce de caminos, intersección de razas, el blues, el gospel y el country. La fusión es un ingrediente inherente en el rock and roll, y el Muscle Schoals con los estudios FAME, letras atormentadas bajo el dilema histórico de la doctrina de la botella y la fe cristiana. Universo Patterson Hood señoras y señores.
El track list de EHeat Light"ning Rumbles In The Distance"  es el siguiente:
1. 12:01
2. Leaving Time
3. Disappear
4. Better Off Without
5. (untold pretties)
6. After The Damage
7. Better Than The Truth
8. Betty Ford
9. Depression Era
10. Heat Lightning Rumbles In The Distance
11. Come Back Little Star
12. Fifteen Days (Leaving Again)
Puedes leer nuestra crónica de Drive by Truckers en su última visita a Madrid el pasado 24 de noviembre de 2010 con Patterson Hood.