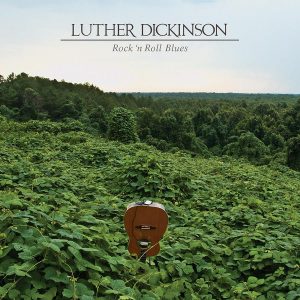 Luther Dickinson guitarrista y cantante de North Mississippi AllStars publica su nuevo y segundo álbum en solitario «Rock 'n Roll Blues» el próximo 18 de marzo, y en el que el «Vandalize» y «Blood 'n Guts» se presentan como primeros adelantos del nuevo trabajo tras su anteriores  tras su reciente trabajo con North Mississippi AllStars «World Boogie Is Coming» (2013), su primer disco en solitario y en acústico «Hambone's Meditation» (2012) disco inspirado por John Fahey, «Old Times There» (2012) junto a la banda South Memphis String Band, proyecto en el que Dickinson toca junto a Alvin Youngblood Hart y Jimbo Mathus, con The Wandering otro proyecto junto a la gran Shannon McNally, Amy LaVere, Valerie June y Sharde Thomas en el disco «Go On Now, You Can't Stay Here» (2012), con Ian Siegal and the Mississippi Mudbloods en «Candy Store Kid» (2012) y finalmente con su padre Jim Dickinson & The North Mississippi Allstars en «I'm Just Dead, I'm Not Gone» (2012).
Escucha el nuevo disco de Luther Dickison «Rock'n Roll Blues»
Escucha «Blood 'n Guts» nuevo tema de Luther Dikinson.
Luther Dickinson (John Hiatt, Willy Deville o The Black Crowes) junto a su hermano Cody Dickinson, son en la actualidad de los pocos revitalizadores del Blues y Country más sucio, auténticos seguidores de los sonidos pantanosos  de Junior Kimbrough y R.L. Burnside, vástagos de Jim Dickinson, legendario productor y pianista sureño (Bob Dylan, Ry Cooder, Big Star, The Replacements, The Cramps, Willy DeVille, Ronnie Hawkins, Sam & Dave, Aretha Franklin, Green On Red, Mojo Nixon, Lucero, T- Model Ford, Tav Falco's Panther Burns o Screamin' Jay Hawkins, o autor del sonido de piano en «Wild Horses» de The Rolling Stones en 1969), propietario del famoso estudio de grabación Zebra Ranch en Coldwater, Misssissippi.
Escucha «Vandalize», nuevo tema de Luther Dickinson.
«Rock 'n Roll Blues» el segundo disco en solitario de Luther Dickinson consta de diez nuevas canciones
Vandalize
Blood 'n Guts
Yard Man
Goin' Country
Mojo, Mojo
Rock 'n Roll Blues
Bar Band
Stone's Throw
Some Ol' Day
Karmic Debt
«World Boogie Is Coming»  de North Mississippi AllStars fue para nosotros el segundo mejor disco internacional del 2013, listado que puedes ver clicando en éste párrafo.
«Death Comes on Wings of Crepe» es uno de los temas del primer disco en solitaro de Luther Dickinson titulado «Hambone's Meditation».