The Steepwater Band inauguraron su gira española y europea el pasado 20 de febrero en el Ague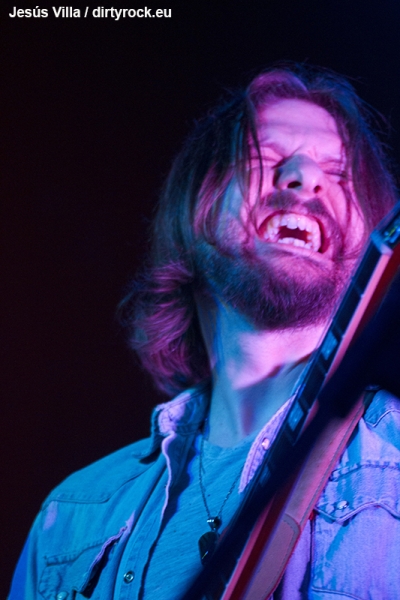 re Espacio Cultural de la ciudad de La Laguna, en Tenerife, en un apasionante concierto con una sala completamente repleta y en el que el cuarteto feroz de Chicago compuesto por Jeff Massey (voz y guitarra), Joe Winters (batería), Tod Bowers (bajo) y su nuevo torbellino a la guitarra, Eric Saylors, presentó su nuevo álbum «Live & Humble« grabado en directo.
The Steepwater Band comenzaron a insuflarnos chutes de Blues y Boogie directo e infernal con dos canciones realmente soberbias «Remember the taker» y «Fire Away«, unos primeros compases del concierto que evocaron a aquella época de Foghat, Bad Company, Allman Brothers, Led Zeppelin o Humble Pie.
Canciones basadas en una trabajada y oscura literatura, remordimientos, desafecto, amor, disparos, etc., todo apoyado musicalmente en una jam band como son The Steepwater Band, en un ambiente denso y pantanoso, derivado de esa mezcla de influencias profundas, crudas y turbias como son su turmix personal del blues más brutal y el rock en su más amplio espectro con una delicada nostalgia sureña.
The Steepwater Band desnudaron su alma durante su concierto en Tenerife, dejando al descubierto su dolor y consumaron la catarsis de toda su rabia acumulada en un nuevo álbum en directo «Live & Humble», publicado el año pasado y que destripa la carrera musical de este grupo del lago Michigan que comenzara su andadadura en 1998.
La mecha ya estaba encendida y The Steepwater Band en casi dos horas de concierto en Tenerife emocionó y conectó con el público con su liturgia, llegando incluso a hacer crujir cartílagos a más de uno en una noche que fue in crescendo, con su volumen infernal, imposible de helar tu sangre con temas propios y rindiendo pleitesía a sus héroes con grandísimas versiones de Blind Willie McTell en la colosal «Statesboro Blues«, el «Bottle of Red Wine» de Derek and the Dominos, canción que escribió Eric Clapton junto a la maravillosa Bonnie Bramlett de Delaney & Bonnie, «Boom Boom» de John Lee Hooker intercalada con el «How Many More Years» de Howlin' Wolf y el cierre a lo grande en Tenerife con la sempiterna «Like a Rolling Stone» del genio Bob Dylan.
The Steepwater Band monumentales en Tenerife con su nuevo guitarrista Eric Saylors, tres guitarras ladradoras y enfurecidas que lloraban y hablaban constantemente junto a su musculosa base rítmica saciando el apetito más exigente, con Thomas como invitado sorpresa, guitarrista de la banda local Los Positivos, acompañándolos en la obra maestra de Blind Willie McTell «Statesboro Blues« (The Allman Brothers) y en el que en definitiva sacudieron al personal toda la noche con su andanada particular de rock y blues con mucha testosterona.
Si quieres leer la crónica de la primera visita de The Steepwater Band a Tenerife y Las Palmas en 2011, clica en éste párrafo.
«Acuérdate del temerario y atrevido que no tiene remordimiento para arrepentirse» – Remember the taker.
Vídeo reproductor con canciones del concierto de The Steepwater Band en La Laguna Tenerife el 20 de febrero de 2014.