Zoe Muth publica su tercer álbum de estudio de diez canciones «World of Strangers» el próximo  27 de mayo de 2014, tras sus anteriores «Starlight Hotel» (2011) y «Zoe Muth And The Lost High Rollers» (2009) y un EP de seis canciones editado en el 2012 llamado «Old Gold» y que ha contado para esta ocasión en su nuevo disco con músicos de elevada importancia como Bruce Robison, Martie Maguire de Dixie Chicks, Brad Rice, Sweney Tidball, Brian Standefer, Mike Hardwick, Geoff Queen, Beth Chrisman y Jenn Miori de The Carper Family, Brandy Zdan, John Ginty y Eric Hisaw y Greg Nies de su banda de acompañamiento Lost High Rollers.
Zoe Muth está considerada en Estados Unidos como una de las mejores intérpretes de la Americana Music desde que debutara en el 2009 con su álbum «Zoe Muth and The High Rollers» y se convirtiera en uno de los mejores discos repleto de referencias Country, Folk Rock y Honky Tonk interpretadas por Muth que recuerda mucho a Emmylou Harris, Iris DeMent o Stevie Nicks.
Zoe Muth es otra heredera más a ese trono de la Americana liderado por Lucinda Williams y Gillian Welch, y compartido por un nutrido de nombres que van desde Eilen Jewell, Shannon McNally, Amanda Shires, Caitlin Rose, Nikki Lane, Tif Merritt o Nicki Bluhm.
Escucha el nuevo disco de Zoe Muth «World of Strangers».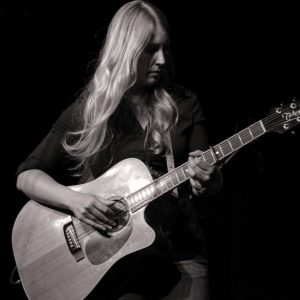 Zoe Muth se acompaña de su banda The High Rollers, compuesta por Greg Nies, Eric Hisaw y Dan Lowinger, y que toma nombre de una canción de Townes Van Zandt en «No Lonesome Tune».
«World of Strangers» de Zoe Muth está grabado en Austin Texas y producido por George Reiff las diez nuevas canciones, una de ellas del Faces Ronnie Lane.
Listado de canciones del nuevo disco de Zoe Muth «World of Strangers».
Little Piece of History
Mama Needs a Margarita
Make Me Change My Mind
Annabelle
April Fool (Ronnie Lane)
Somebody I Know
Too Shiny
Waltz of the Wayward Wind
Taken All You Wanted
What Did You Come Back Here For?