John Hiatt es otro soberbio compositor y músico norteamericano auténtica "pata negra" de la Americana music que vuelve a visitar España con tres conciertos (Bilbao, Madrid y San Javier), dentro su gira europea que comenzara el pasado 2 de julio en Copenague, Dinamarca.
El pasado año, durante el verano del 2011, John Hiatt firmaba uno de los mejores discos de la década, su vigésimo álbum Dirty Jeans and Mudslide Hymns, una auténtica obra maestra de once sólidas y maravillosas canciones.
El sexagenario John Hiatt, su guitarra y armónica viven en Austin, Texas, y desde mediados de los años setenta se ha labrado un gran respeto entre los más grandes músicos de Rock & Roll, Country, Soul,  Blues y Americana como Willy DeVille, Bob Dylan, Bonnie Raitt, Joan Báez, Willie Nelson, B.B. King, John Mellencamp, Eric Clapton, Ry Cooder, Nick Lowe, Dave Edmunds, o Aaron Neville, entre otros muchos,  quiénes han interpretado sus composiciones.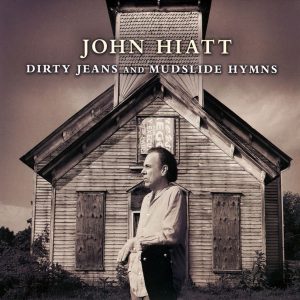 Su dura infancia, su hermano se suicidaba a muy temprana edad y su padre fallecía tras una larga y dolorosa enfermedad, saqueador de coches con sus amigos y otras variedades, hizo que se curtiera en mil batallas, no hay más que escuchar su maravillosa voz de lija y profunda, su agresivo estilo blusero con la guitara como si fuera un tren enloquecido.
https://youtu.be/dMF658rThog
Son casi 40 años de maravillosos discos y largas giras del genio y "same old man" John Hiatt, Country Rock con su primigenio Hangin' Around the Observatory (1974) pasando por evoluciones New Wave e influencias por parte de Nick Lowe y Graham Parker en su segundo disco Overcoats (1975).
A partir de ahí, sucesión de grandes discos y grandes tratados con historias magníficas, música de raíces pura y dura, muchísima fuerza en sus interpretaciones llenas de whisky para el dolor,  "Slug Line", "Bring the Family" o sus recientes "Same old Man",  "Master Of Disaster" (junto con North Mississippi Allstars) y "The Open Road" nos tiene absolutamente secuestrados y enamorados de su música desde hace muchos años.
Hace bien poco se ha publicado "Paper Thin (Live)" un concierto en directo de 1989 grabado en Ottawa, Canadá durante aquellos álbumes "Bring the family" y "Slow turning".
Sus tres citas españolas son Bilbao 9 de julio (Sala BBK), Madrid 10 julio (Teatro Circo Price), San Javier, Murcia 11 julio (Teatro Municipal).
Su gira europea concluye el 20 de julio en Gateshead en Inglaterra. Agosto lo volverá a llevar a Estados Unidos para terminar su gira hasta principios de octubre en el país que lo vio nacer.
Si admiras a forajidos como Nick Lowe, Chuck Prophet, Elliot Murphy, Alejandro Escovedo, Steve Earle, Warren Zevon, Neal Casal, Nikki Sudden, Dave Alvin, o Willie Nile, no lo dudes John Hiatt es tu tipo, one way ticket to the remedy…
John Hiatt Euro Tour started July 2nd in Denmark and then Germany, Holland, Belgium and Spain with three venues, Bilbao, Madrid and Murcia.
John Hiatt' released "Paper Thin (Live)" recorded for a radio broadcast in early 1989 at a concert in Ottawa this live performance features John playing songs from his "Bring the family" and Slow turning" CDs.