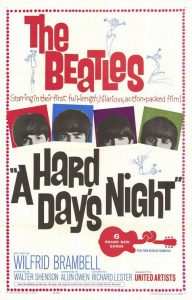 The Beatles celebran el 50 aniversario del estreno de su primera película «A Hard Day's Night» (1964) y de su tercer álbum de estudio, con su reestreno en cines de todo el mundo a partir del 4 de julio, copias restauradas del film y ediciones en DVD y Blu-Ray a partir del 21 de julio.
«A Hard Day's Night» (¡Qué noche la de aquel día!), película documental dirigida por Richard Lester (Help!, Golfus de Roma, Get Back) y protagonizada por The Beatles, John Lennon, Paul McCartney, George Harrison y Ringo Starr, en pleno auge de popularidad de los de Liverpool.
¡Qué noche la de aquel día! (A Hard Day's Night) fue la primera incursión de los Beatles en el cine, en la que resultó ser una interesante comedia de aventuras y Rock & Roll llena de gags, humor negro y un ritmo. La película fue nominada también a los Oscars de Hollywood como mejor guión y mejor banda sonora.
El tercer álbum de The Beatles «A Hard Day's Night», fue el  primer álbumque incluyó trece canciones originales de Lennon y McCartney como «She Loves You», «All My Loving», «Can't Buy Me Love», «And I Love Her» o «A Hard Day's Night» entre otras.