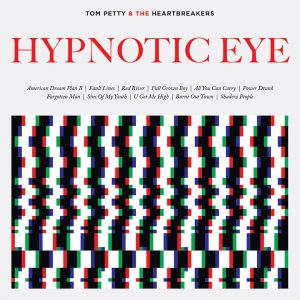 Tom Petty and the Heartbreakers publican «Hypnotic Eye» el próximo 29 de julio, su nuevo disco y decimo tercer álbum compuesto por once nuevas canciones y producido por Tom Petty, Mike Campbell y Ryan Ulyate y además editarán dos álbumes más, un nuevo disco en directo con grabaciones entre Nueva York y Los Angeles, y una reedición de su disco «Wildflowers» (1994), acompañado de diez temas inéditos para finales del 2014.
Tom Petty y sus rompecorazones, menos popular en Europa y España que otros grandes, debido a su escasa presencia en entrevistas y vida privada, en nuestro país comenzó a conocerle el gran público a través de sus discos con Traveling Wilburys (Bob Dylan, Roy Orbison, Jeff Lynne, Jim Keltner y George Harrison) en 1988 y en el que "Mojo" (2010) fue el último trabajo de los Heartbreakers tras ocho años sin banda y en solitario con "The Last DJ" (2002).
Escuha el nuevo disco de Tom Petty and the Heartbreakers «Hypnotic Eye».
Tom Petty, el rapsoda, el Traveling Wilburys, el heartbreaker (rompecorazones), el Refugee, el auténtico ídolo de Florida, junto a Bruce Springsteen, Bob Seger, o John Mellencamp, son los auténticos apoderados del Rock de raíces desde la década de los años 70, los cuatro cantautores podrían realizar una gran enciclopedia con cada gira realizada, su música está llena brisa campestre ocupada por armonías vocales en la gran mayoría de sus canciones unidas a sus redenciones hacia The Byrds, Bob Dylan, The Beatles o Grateful Dead, dejan para la historia del Rock obras maestras como Breakdown, Free Fallin', Refugee, Don't do me like that, Don't come around here no more, I won't back down, Mary Jane's last dance, Into the great wide open, o You don´t know how it feels entre otras muchísimas canciones.
Presenciar un concierto de Tom Petty & The Heartbreakers es algo realmente mágico y único para los que hayamos tenido la suerte de verlo en directo, en Europa se prodiga muy poco, no le gustan los aviones, en su país se mueve por carretera y allí es un auténtico héroe y tesoro nacional, en sus conciertos sientes como su música  te atraviesa los huesos y te llega hasta la médula, condensando todo ese sonido americano de Blues, Rock, Folk y Country.