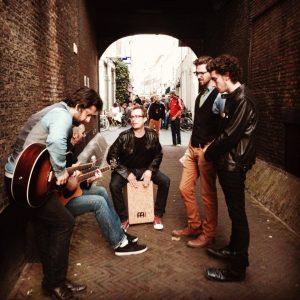 Hollis Brown es un fantástico quintento neoyorquino de rock de raíces que debutaba el pasado año con un disco magnífico «Ride on the Train», producido y grabado en Nashville por Adam Landry (Hayes Carll, Deer Tick, Pete Molinary, Bob Dylan, Sallie Ford & the Sound Outside) que estará por primera vez de gira en España del 13 al 15 de junio en Hondarribia, Madrid y Valencia.
Hollis Brown publicaron el pasado mes de abril con motivo del día del vinilo, Record Store Day, un disco de versiones de la The Velvet Underground del «Loaded» (1970), titulado «Gets Loaded.
Hollis Brown toman nombre de la canción de Bob Dylan «The Ballad of Hollis Brown» y sus canciones abrazan riffs guitarreros de The Yardbirds y The Rolling Stones, además de atmósferas y registros a lo Creedence Clearwater Revival y Neil Young.
No es de extrañar que la discográfica Alive Records, dirigida por Patrick Boissel, radicada en Los Angeles, y descubridor entre otras bandas como The Black Keys, Left Lane Cruiser, Radio Moscow, Buffalo Killers o figuras del Blues como T-Model Ford entre otros los haya fichado.
Escucha «Gets Loaded» de Hollis Brown.
Hollis Brown debutaron en el 2009 con un álbum homónimo de once canciones que desenpolvaba canciones con cierto aire de Rock setentero y Americana, un segundo trabajo en el 2012 co un Ep de cuatro cancioes titulado «Nothing & the Famous No One» y su último y magnífico «Ride on the Train», renovando más aún su sonido de altos vuelos.
Escucha «Ride on the Train» de Hollis Brown.
Fechas de la gira española de Hollis Brown:
13 de junio e Hondarribia, Psilocybenea
14 de junio en Madrid, Siroco
15 de junio en Valencia, Loco Club)