The Rolling Stones volvieron a España el pasado miércoles 25 de junio con hambre de directo, ofreciendo un candente concierto en el glorioso y abarrotado Estadio Santiago Bernabéu de Madrid con 55.000 personas, brindando diecinueve canciones en más de dos horas y diez minutos entre ellas la imperecedera «Like a Rolling Stone» de Bob Dylan que no interpretaban en directo desde el 29 de septiembre de 2003 precisamente en Zaragoza dentro de su gira Licks Tour.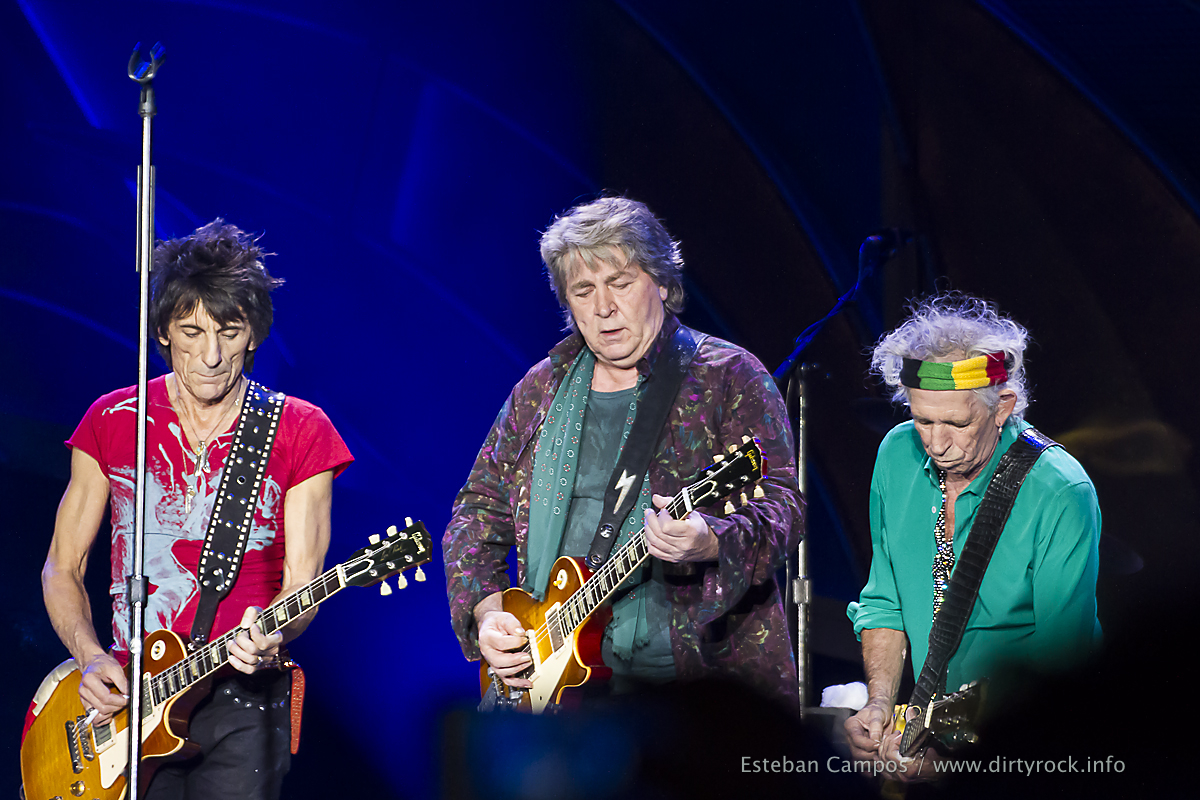 Han pasado unas horas del concierto The Rolling Stones en Madrid y aún sigo teniendo metralla y proyectiles en forma de canciones de los Stones en mi cabeza, pocas veces, y ya van una docena, he visto a la banda con tanta hambre de directo, con un bisabuelo Mick Jagger y Charlie Watts tan rabiosos y un público realmente enloquecido, hechizado y extasiado.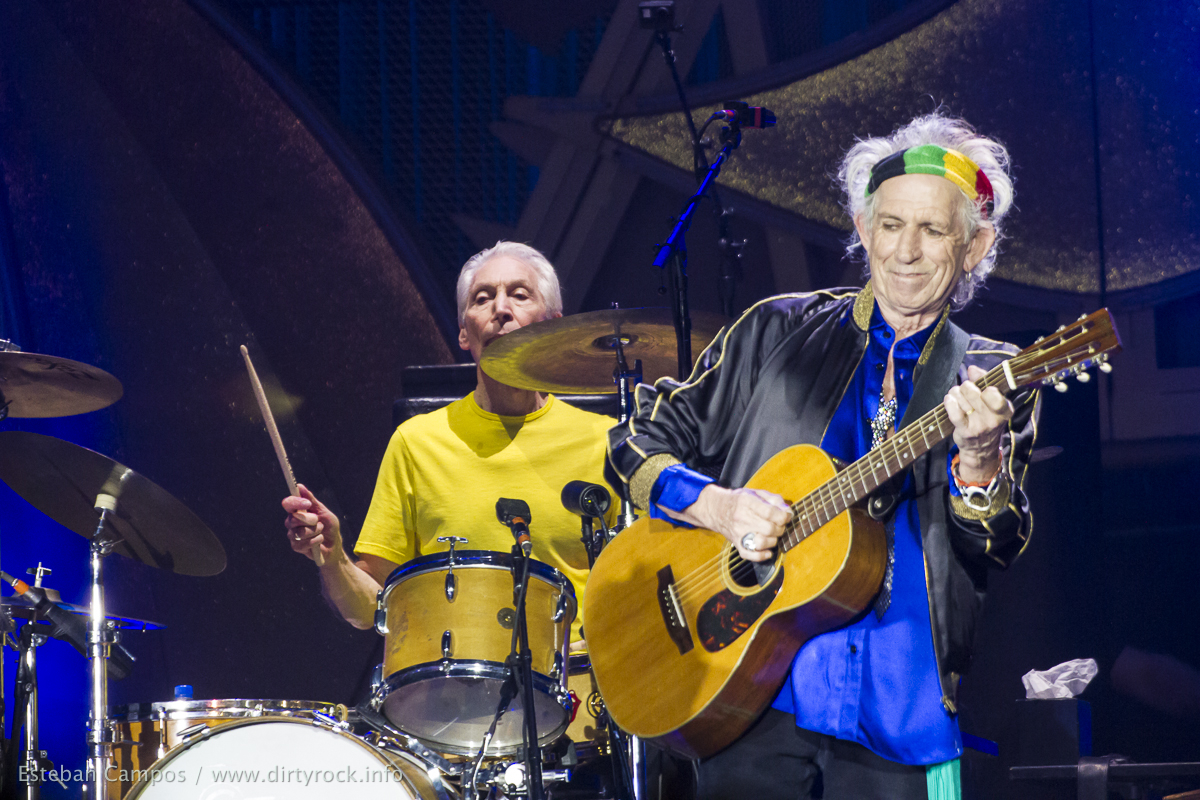 Aquello fue como si dispusiese de una provisión infinita de veneno, y yo quería un poco, necesitaba esa dósis periódica de una banda curtida en mil batallas, con cientos de canciones monumentales y explosivas, una auténtica orgía Stones-público madrileño en la que los primeros reivindicaron sus cincuenta y dos años de existencia.
Revisar la trayectoria de esta mítica banda y disertar sobre los improperios en la prensa española sobre The Rolling Stones y su concierto, antes y después del mismo no tiene sentido, ellos ya lo han demostrado todo y lo siguen haciendo como evidenciaron en su concierto en el Santiago Bernabéu, Rock & Roll sin tregua y Blues primario, sometido al aparente caos por parte de los fascinantes Keith Richards y Ronnie Wood.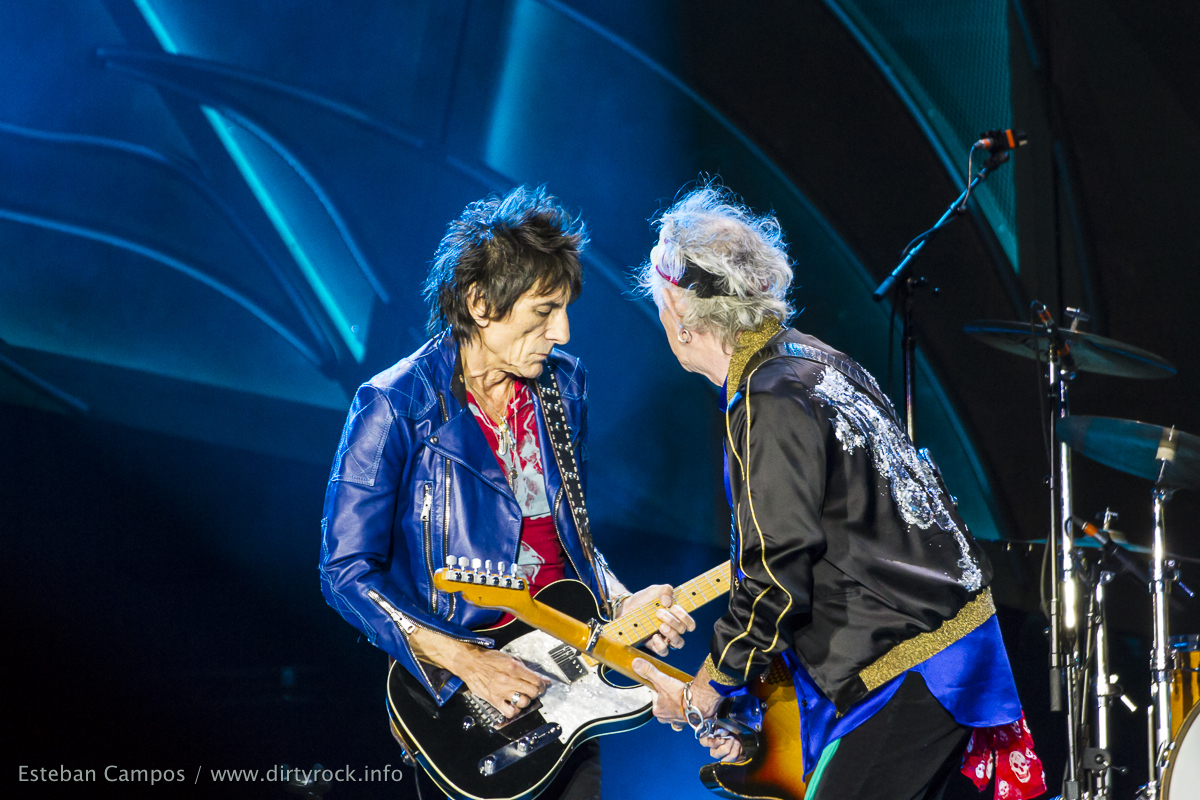 Mick Taylor entraba en juego también en Madrid junto a The Rolling Stones con la bilis desatada, al devorar al público con su guitarra habladora junto a Mick Jagger a la armónica en «Midnight Rambler», comiéndose ambos los micros y pateando a todos, seductor es poco.
Keith Richards siempre cautivador junto a su fiel escudero Ronnie Wood, casi estáticos, baluartes a las guitarras junto al incombustible Darryl Jones al bajo, Chuck Leavell (The Allman Brothers) a los teclados, Bobby Keys prodigioso al saxo, Tim Ries (saxo y teclados), Matt Clifford (percusión y trompa), Bernard Fowler (coros y percusión) y Lisa Fischer (coros y percusión), descansaba esta catarsis de más de dos horas.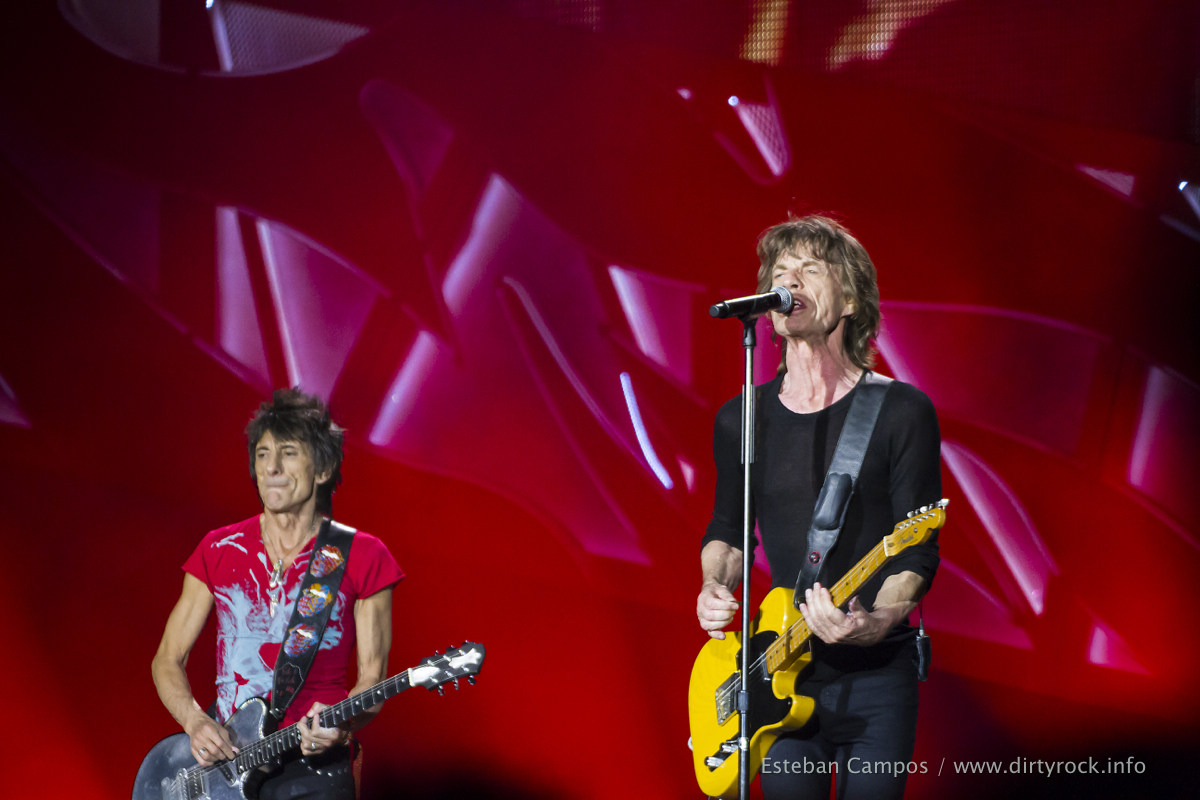 Arrolladora la primera parte de los Stones en Madrid, con una intro e inicio con «Jumpin' Jack Flash» que pusieron la piel de gallina, al igual que «Angie» con todo el estadio cantando, «Tumbling Dice», «Out of Control», o las incendiarias «Honky Tonk Women» o «Like a Rolling Stone» de Dylan con el predicador Mick Jagger como nunca lo había visto, un clérigo del vudú más negro ajusticiando uno de los mayores rituales del mundo.
Keith Richards algo desacompasado y deconstruyendo dos maravillosas canciones «You Got the Silver» y «Can't Be Seen» sin tregua.
La garganta de Mick Jagger y los suyos llegaban a la segunda parte de su concierto en Madrid como ametralladoras, abrazando al público constantemente con la apoteósica «Midnight Rambler», «Miss You», «Gimme Shelter» con una Lisa Fischer realmente divina a los coros, «Start Me Up», «Sympathy for the Devil», «Brown Sugar» y el bis con «You Can't Always Get What You Want» con el Joven Coro de la Comunidad de Madrid y la sempiterna «(I Can't Get No) Satisfaction» de nuevo con Mick Taylor en el escenario.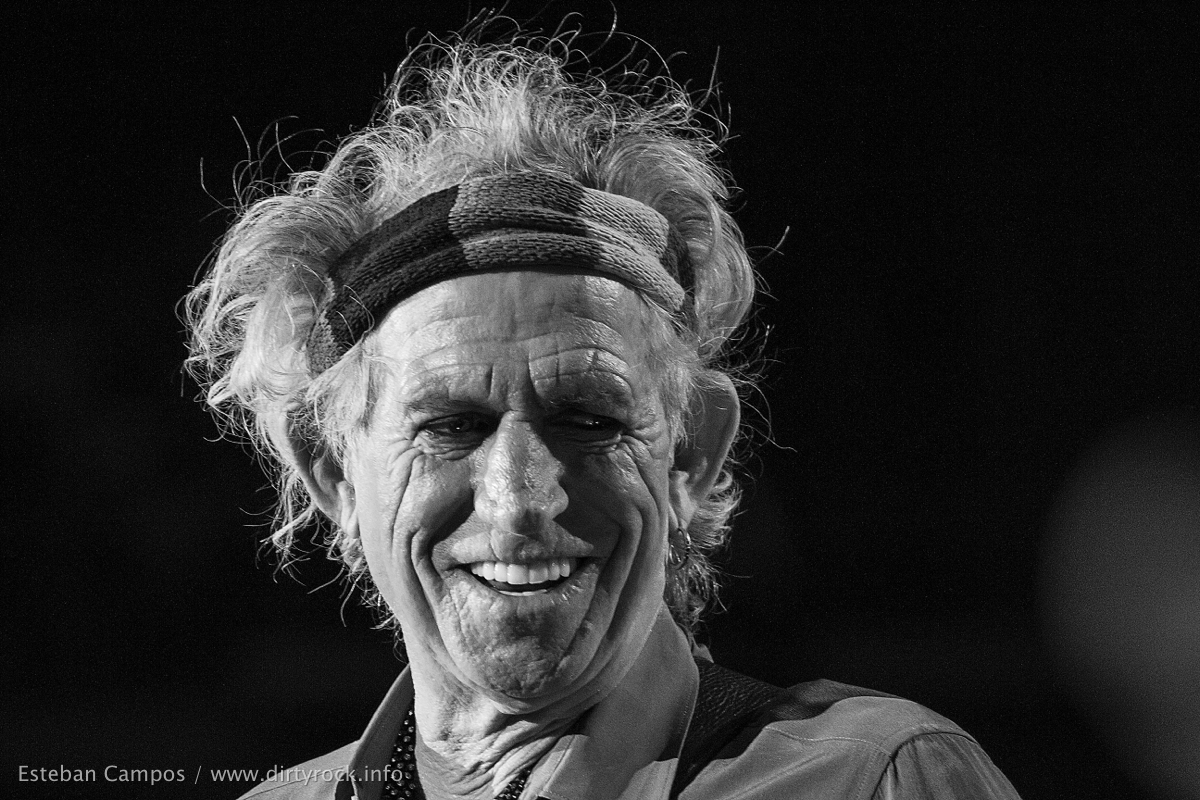 Del «telonero» de The Rolling Stones en Madrid Leiva (ex Pereza) no me apetece hablar, Ariel Rot (Tequila y Los Rodríguez) y Carlos Tarque (M-Clan) ¡grandes!. Burning tenían que estar ahí por derecho y trayectoria.
Majestades solamente a una, The Rolling Stones, a sus pies.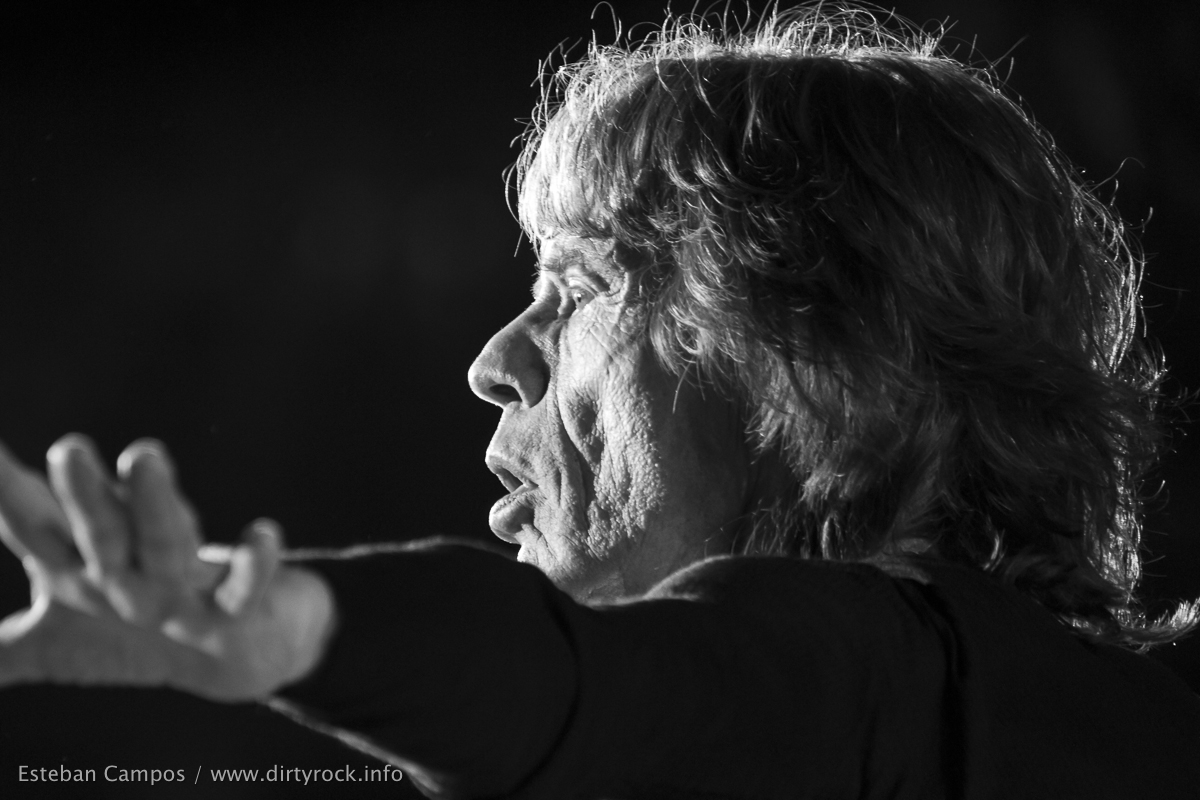 Galería fotográfica del concierto de The Rolling Stones en Madrid el 25 de junio de 2014 (Fotos: Esteban Campos Trujillo)

Setlist del concierto de The Rolling Stones en Madrid en el estadio Santiago Bernabeu el 25 de junio de 2014.
1. Jumpin' Jack Flash
2. You Got Me Rocking
3. It's Only Rock'n'Roll
4. Tumbling Dice
5. Angie
6. Like A Rolling Stone (canción ganadora por voto popular)
7. Doom and Gloom
8. Out Of Control
9. Honky Tonk Women
– Presentación de la banda –
10.You Got The Silver (Keith Richards)
11. Can't Be Seen (Keith Richards)
12. Midnight Rambler (con Mick Taylor)
13. Miss You
14. Gimme Shelter
15. Start Me Up
16. Sympathy For The Devil
17. Brown Sugar
– Bises –
18. You Can't Always Get What You Want (con el coro JORCAM)
19. (I Can't Get No) Satisfaction (con Mick Taylor)