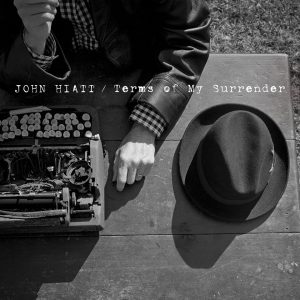 John Hiatt publica su vigésimo segundo disco "Terms of my Surrender" el 15 de julio, álbum autobiográfico de once canciones producidas por uno de los componentes de su banda The Combo, Doug Lancio tras su anterior "Mystic Pinball" (2012) de uno de los mejores compositores norteamericanos que durante sus más de cuarenta años de carrera musical sus canciones han sido intepretadas entre otros por Bob Dylan, Rosanne Cash, Emmylou Harris, Ry Cooder, Bonnie Raitt, Eric Clapton, Willie Nelson, John Mellencamp, Nick Lowe, Dave Edmunds, Aaron Neville o Iggy Pop.
John Hiatt regresa con otro soberbio álbum "Terms of my Surrender" junto a su banda de siempre, su productor Doug Lancio a la guitarra, Kenny Blevinsa la batería y Patrick O'Hearn al bajo son el complemento perfecto para un disco repleto de maravillosas historias y música, revólveres, suicidios, cabezas volando, temores, grillos nocturnos en pantanos infectados de cochambre, balas volando, dinero, fe y muchísima sangre de Country Folk Rock Blues primigenio.
Escucha "Terms of my Surrender", el nuevo disco de John Hiatt.
"Terms of my Surrender" canciones retorcidas desde el infierno John Hiatt, disparos en forma de canciones que llegan desde todos los lados, delicioso cuando ves llegar esas bala a tu cabeza. Uno de los mejores disco del 2014 sin lugar a dudas.