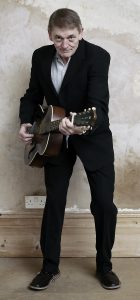 Geraint Watkins presenta nuevo EP "Mosquito Vol. 2", el próximo 20 de marzo y Madrid es la única ciudad española de su gira europea, acompañado de Bobby Irwin, Matt Radford y Martin Winning, en la Sala El Sol el próximo 1 de marzo.
Geraint Watkins es como ese gran vino español que nunca falla, multiinstrumentista  y músico de acompañamiento de Bill Wyman's Rhythm Kings, escoltando al ex Rolling Stones el pasado junio en España con su voz, acordeón y piano, y de músicos de la anchura de Dave Edmunds, Rory Gallagher, Van Morrison, Nick Lowe, Andy Fairweather Low, Sting, George Harrison, Status Quo, Eric Clapton, The Fabulous Thunderbirds, Paul Young, Mark Knopfler, The Blues Band, Box Of Frogs, Dr. Feelgood, Stray Cats, Andrew Fairweather Low o de su ídolo Carl Perkins.
Geraint Watkins es conocido para los amantes de Nick Lowe, porque colabora con el compositor inglés tanto en la realización de discos de estudios y gira desde el año de 1994, con cinco discos a las espaldas tocando el piano, guitarra eléctrica y órgano en los discos "The Imposible Bird" (1994), "Dig My Mood" (1998), "The Convincer" (2001), "At my Age" (2007) y "The Old Magic" en 2011 y en los últimos de Van Morrison que van desde el "Back on Top" de 1999 hasta "Keep it Simple" en el 2008.
Geraint Watkins es consciente de su importancia, hasta Bob Dylan lo idolatra, a pesar de estar siempre relegado en un segundo plano, ha publicado tres largas duraciones, Watkins – Bold As Love (1997), Dial W For Watkins (2004) e In A Bad Mood (2008), y ahora sus dos últimos EP's "Mosquito Vol. 1" y "Mosquito Vol. 2", compuesto por cuatro canciones "Shine a Light", "Shaky Tree", "Mosquito", y "This Old Fashioned Love".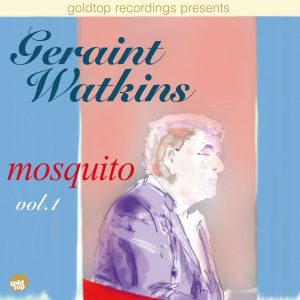 Geraint Watkins y su música es inapelable, magnífico intérprete y no menos músico, sus melodías nos trasladan al Rhythm & Blues, Jazz, Country, Boogie-Woogie, Blues y Rock & Roll.
No hay tiempo que perder, escuchad a Geraint Watkins y directo a su concierto el próximo 1 de marzo en la Sala El Sol de Madrid.