Muddy Roots Europe de nuevo se presenta en Europa en su segunda edición, el próximo mes de junio entre los días 14 y 16 en la ciudad belga de Waardamme, sur de la ciudad de Brujas, festival norteamericano con sede en Cookeville, Tennessee, gracias a su promotor Jason Galaz y la ferviente ayuda de Saving Country Music.
Muddy Roots Europe 2013 contará en su segunda edición en el viejo continente con las actuaciones de los norteamericanos The Dirt Daubers, Bob Wayne & The Outlaw Carnies, Tav Falco's Panther Burns, Possessed By Paul James, Joe Buck Yourself, Jayke Orvis & The Broken Band, Rachel Broooke, Viva Le Vox, Koffin Kats, James Hunnicutt, Husky Burnette, Lonewolf OMB, Johnny Foodstamp, y Drew Landry, los españoles, Th' Booty Hunters, los alemanes Dad Horse Experience,  Heinrich XIII  & The Devilgrass Pickers y Dinosaur Truckers, los británicos The Dublo y DJ Charlie Hounddog, el suizo Reverend Beatman, los polacos Jet-Sons Rockabilly Trio o los brasileños Mary Lee & The Sideburn Brother.
Asimismo el Muddy Roots Festival que se celebra en Estados Unidos Tennessee se celebrará entre el 30 de agosto y 1 de septiembre de 2013, el festival rodará durante los dos festivales imágenes para el documental "Hard Soil", co-producción norteamericana alemena que se estrenará en el 2014 y que cuenta la evolución de la música de raíces en Estados Unidos, sonidos impresos en el publo norteamericano desde sus inicios, siendo la música del pueblo y que definiría una cultura y estilo de vida hasta nuestros tiempos con estilos tan diversos como el Bluegrass, Blues, Country, Cajun, Zydeco, o Gospel entre otros.
El documental "Hard Soil" está producido por Jason Galaz artífice de los festivales y dirigido por M.A. Little.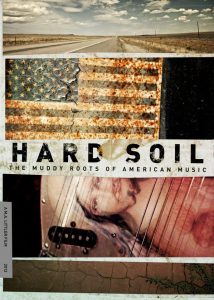 El festival Muddy Roots Europe, tendrán lugar en el Cowboy Up Steakhouse Saloon en la localidad belga de Waardamme, los precios del bono del festival van desde 55 euros de la preventa, a los 70 euros en taquilla, la entrada incluye camping gratuito.
Más información sobre venta de entradas para Muddy Roots Europe 2013, clicando en éste enlace.
Más informacióna acerca de transportes y hospedaje del festival Muddy Roots Europe, clicando en éste enlace.
Muddy Roots Festival (Festival de Sucias Raíces), el festival norteamericano donde comenzó todo sería en el año 2009, con el objetivo de defender y promover a gran escala un proyecto en el que tuviera cabida en un mismo lugar y durante varios días, la fiesta de la música de raíces norteamericana "Roots Music" donde confluyesen el Roots Blues, Country, Americana, Rockabilly, Folk, Rock & Roll, Old Country, Bluegrass, Hillbilly, Rhythm & Blues, Deep Blues, Traditional Country y Punk Rock entre otros estilos intermedios.
La revitalización de la música de raíces norteamericana resulta de la conciliación de varios hechos relevantes, primero  el resurgir a principios de los años 90 del Lower Broadway en Nashville, una calle muy conocida de la ciudad americana, en la que The Grand Ole Opry era la catedral de la música en aquel momento.
El lugar de peregrinaje de todos esos adeptos a la música de raíces se encontraba en The Ryman, en el que a principios de los noventa se potenció y expuso a los mejores artistas del momento como BR549, Th' Legendary Shack Shakers, Hillbilly Casino, Greg Garing, Emmylou Harris, o Joe Buck and Layla, y en el que a finales de los noventa con Hank Williams III se cimentó esa mezcla de géneros como el cowpunk y los músicos neo tradicionalistas de Country mezclaron su música con Blues.
El "Outlaw Country" y su movimiento musical y cultural, ayudó con forajidos como Willie Nelson, Kris Kristofferson, Waylon Jennings, Bobby Bare y especialmente Tompball Glaser's "Hillbily Central" a ese espíritu combativo contra muchos estudios en Nashville en el que el Country se convertía en música descafeinada. Y la actitud "Do it Yourself" contribuyó a innovar y mejorar la música Country, pero siempre respetando los valores de generaciones anteriores.
El género Punk, también ayudó a crear lo que se llamaría "Underground Country" a principios de los años setenta y "Muddy Roots" re direccionados desde el Post Punk, buscando siempre un sonido más crudo y más de raíces apoyado desde el Bluegrass y el Country tradicional, un ejemplo claro es Hank Williams III.
Gracias al Punk, confluyeron el Country y el Blues, denominándose ese movimiento, North Mississippi Hill Country Blues & Deep Blues, siendo sus baluartes Scott H Biram o The Black Diamond Heavies y el festival Deep Blues Festival celebrado en Minnesota a mediados del 2000.
El Rockabilly con el reverendo The Reverend Horton Heat combinó mentalidad Punk y Rockabilly a principios de los años 90, pionero de lo que se llamaría "Pyschobilly", versión de Rockabilly, Country y Punk.
Nashville y también Austin por ser la capital mundial de la música y epicentro de la industria musical independiente de raíces, son las grandes ciudades del movimiento Muddy Roots, siendo sus representantes "muddy's"  Wayne Hancock, Scott Biram o Dale Watson, y The North Mississippi Hill Country contribuyó con el sonido RL Burnside, y también Junior Kimbrough o T Model Ford contribuyeron a crear ese hervidero de sonidos pantanosos junto al punk, y así hasta nuestros días con grupos como The Black Keys, The Ten Foot Polecats o Restravant, representando el Deep Blues más moderno. Y Chicago con el sello discográfico Bloodshot Records, importantísimo.
Otros ciudades norteamericanas como Michigan, The Upper Midwest, Phoenix, The Pacific Northwest, Montana, California, North Carolina, Central Florida o Kansas fueron otros focos fundamentales para desarrollar el movimiento pantanoso y sucio del Muddy Roots.
Eddie Spaghetti and the Supersuckers, Slackeye Slim, Rachel Brooke, JB Beverley, Mike Ness de Social Distortion, Jon Doe and Exene Cervenka, The Devil Makes Three, The Pine Box Boys, Los Duggans, Justin Townes Earle, Scott H. Biram, Wayne "The Train" Hancock, The Avett Bros, Whitey Morgan & The 78′s, Rachel Brooke, The Goddamn Gallows, Those Poor Bastards, .357 String Band, Trampled by Turtles, Ray Lawrence Jr. , Junction 10, Bob Wayne, Larry & His Flask, McDougall, James Hunnicutt, Hillstomp,  The Hooten Hallers, Molly Gene One Whoaman Band, Ben Prestage, Lone Wolf OMB, The Everymen, Split Lip Rayfield o Calamity Cubes son algunos ejemplos del cultivo creado a través de las raíces más cenagosas.
Horarios del Muddy Roots Europe Festival 2013.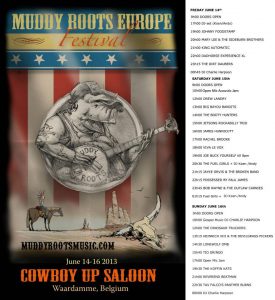 Muddy Roots Europe 2013, todos sus músicos.
Tav Falco's Panther Burns (US)
Possessed By Paul James (US)
Bob Wayne & The Outlaw Carnies (US)
Joe Buck Yourself (US)
Koffin Kats (US)
Reverend Beatman (Switzerland)
Jayke Orvis & The Broken Band (US)
Jet-Sons Rockabilly Trio (Poland)
Rachel Broooke (US)
Viva Le Vox (US)
Tio Gringo (Netherlands)
Dad Horse Experience (Germany)
Dinosaur Truckers (Germany)
Heinrich XIII  & The Devilgrass Pickers (Germany)
James Hunnicutt (US)
The Booty Hunters (Spain)
Husky Burnette (US)
Johnny Foodstamp (US)
DJ Charlie Hounddog (UK)
Lonewolf OMB (US)
Big Bayou Bandits (Belgium)
The Dublo (UK)
Mary Lee & The Sideburn Brothers (Brazil)
Drew Landry (US)