The 2013 Americana Music Awards, la duodécima edición de los premios que se entregará el 18 de septiembre en el Ryman Auditorium (The Mother Church of Country Music) de Nashville tiene a sus nuevos nominados entre los que destacan el matrimonio Shovels and Rope, con su magnífico disco «O Be Joyful» y con cuatro nominaciones y con tres Emmylou Harris y Buddy Miller, además de artistas como John Fullbright, JD McPherson, Rodney Crowell, Jim Lauderdale, Richard Thompson, The Lumineers, Greg Leisz o Larry Campbell entre otros.
Old Crow Medicine Show, JD McPherson, The Milk Carton Kids, Shovels and Rope, Richard Thompson o Dr. John, entre otros son algunos de los artistas que esta noche amenizarán la velada de los premios de la Americana Music 2013.
Los nominados para los premios entregados por la asociación de la la Americana Music Association se entrgaron ayer martes en el Museo de los Grammy en la ciudad de Los Angeles, en la que se rindió tributo al gran George Jones, recientemente fallecido.
Buddy Miller, Jim Lauderdale, Fats Kaplin, Brian Owings, y Jay Weaver, fueron la banda encargada de rendir un emotivo tributo a la gran estrella de Country George Jones, y en la que Lisa Marie Presley junto a  T Bone Burnett, Elizabeth Cook, y the Milk Carton Kids fueron parte del espectáculo.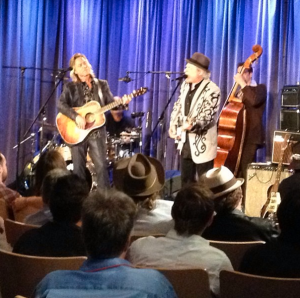 Jim Lauderdale se encargará de presentar los próximos premios de la Americana Music 2013 como en años anteriores y Buddy Miller, asumirá las labores de dirección de una auténtica "All Star Band" compuesta probablemente y como viene siendo habitual por Don Was, Rami Jaffee, Brady Blade y el grandioso Larry Campbell.
Lectura de nominados a los premios de la Americana Music 2013.
La entrega de premios de la Americana Music 2013, irá acompañada de otros actos comoc onferencias, masterclass, exhibiciones, proyecciones, moda, entrevistas, conciertos, etc., del 18 al 22 de septiembre en la ciudad de Nashville, Tennessee.
Actuación anoche de Milk Carton Kids en la ceremonia de nominados de la Americana Music.
La lista de nominados para la Americana Music 2013 es la siguiente:
Buddy & Jim, Buddy Miller & Jim Lauderdale
Cheaters Game, Kelly Willis & Bruce Robison
From The Ground Up, John Fullbright
O Be Joyful, Shovels and Rope
Old Yellow Moon, Emmylou Harris & Rodney Crowell
Artista Americana del año:
Buddy Miller
Dwight Yoakam
Emmylou Harris
Richard Thompson
Artista revelación de la Americana Music:
JD McPherson
John Fullbright
Milk Carton Kids
Shovels and Rope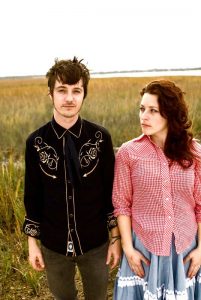 Canción Americana del año:
Birmingham – Shovels & Rope
Good Things Happen to Bad People – Richard Thompson
Ho Hey – The Lumineers
North Side Gal – JD McPherson
Instrumentista Americana del año:
Doug Lancio
Greg Leisz
Jay Bellerose
Larry Campbell
Mike Bub
Dúo o grupo Americana del año:
Bruce Robison and Kelly Willis
Buddy Miller and Jim Lauderdale
Emmylou Harris and Rodney Crowell
Shovels & Rope