Joe Buck Yourself actuará en Barcelona (Apolo 2) el próximo 8 de mayo para presentar su tercer disco en solitario «Who Dat?» (2012),  en la que será su única actuación en España dentro de la gira europea que comienza el 8 de abril y que recorrerá buena parte del viejo continente de este forajido, uno de los máximos exponentes de la música de raíces alternativa en Estados Unidos junto a Hank III, Scott H. Biram o los The Black Diamond Heavies entre otros del  violento y rabioso Country Punk Underground y Deep Blues, en el que a finales de los noventa con Hank Williams III se cimentó esa mezcla de géneros como el cowpunk y los músicos neo tradicionalistas de Country mezclaron su música con Blues.
Joe Buck Yourself es el nombre artístico de este norteamericano «one man band», nacido en Kentucky pero afincado en Nashville, auténtico ciclón del estilos musicales como el Hellbilly Punk Rock y Hillbilly desde de la década de los noventa, y acompañante de lujo junto a J.D. Wilkes en The Legendary Shack Shakers y del nieto de Hank Williams, Hank III en varios discos y giras desde finales de la década de los noventa.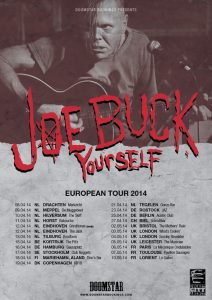 El facineroso Joe Buck ha publicado hasta el momento tres discos en solitario Joe Buck Yourself Album (2007), Piss & Vinegar (2010) y Who Dat? (2012).
Joe Buck es junto a Possessed by Paul James, BR549, Wayne «The Train» Hancock, Bob Wayne, Jayke Orvis, Dale Watson, The Dirt Daubers, The Boomswagglers, J.B. Beverley & The Wayward Drifters, Hellbound Glory, Slackeye Slim, Justin Townes Earle, .357 String Band o Th' Legendary Shack Shakers, uno de los máximos representantes de la nueva generación del «Do it Yourself», frase célebre que acuñaron los «Outlaw Country» los Willie Nelson, Kris Kristofferson, Waylon Jennings, Bobby Bare y especialmente Tompall Glaser en sus oficinas y estudio del «Hillbilly Central» en Nashville para innovar y mejorar la música Country, pero siempre respetando los valores de generaciones anteriores, buscando en el caso de Joe Buck, ese sonido más crudo y con más de raíces apoyado desde el Bluegrass, Punk y el Country tradicional.