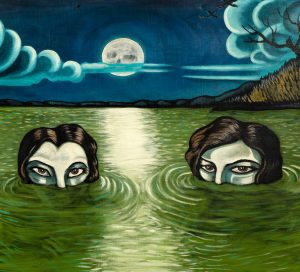 "Let there be Rock!"
Drive by Truckers tienen nuevo disco "English Oceans" y será publicado el próximo 4 de marzo, será su décimo segundo álbum grabado en agosto en los estudios Chase Park Studios en Athens, Georgia junto con el productor David Barbe y con su nuevo bajista Matt Patton (The Dexateens), que ya estuvo en la gira del 2012, tras la salida de Shonna Tucker, además de la reciente publicación de la reedición del álbum en directo grabado en 1999 Alabama Ass Whuppin', en vinilo.
Escucha "Pauline Hawkins" de Drive By Truckers.
El nuevo tema de Drive by Truckers está inspirado en la novela "The Free" de Willy Vlautin cantante y compositor de la banda Richmond Fontaine.
Escucha "English Oceans", el nuevo disco de Drive By Truckers:
"The Part of Him" es otro nuevo adelanto de Drive by Truckers para "English Oceans".
Drive by Truckers han presentado alguna de sus nuevas canciones en su reciente gira por Estados Unidos este otoño, en mayo de 2014 comienzan una nueva gira europea con varias ciudades confirmadas como Dublín, Glasgow, Manchester, Londres, Amsterdam o Antwerp en Bélgica.
Las nuevas canciones de Drive By Truckers están compuestas por la genial dupla Patterson Hood y Mike Cooley. John Neff (pedal steel y guitarra), Matt Patton (bajo), Brad Morgan (batería) y Jay González (piano-órgano) completan esta majestuosa banda de Alabama, los auténticos cabezas de turco del renacimiento del Country-Southern Rock que sacude los cimientos de la música americana actual.
"Go-Go Boots" fue el anterior trabajo de Drive By Truckers en el 2011, originarios de la América profunda, ese lugar oscuro, cruce de caminos, intersección de razas, el blues, el gospel y el country.  La fusión es un ingrediente inherente en el rock and roll, y el Muscle Schoals con los estudios FAME son el aparcamiento perfecto para los Drive by Truckers.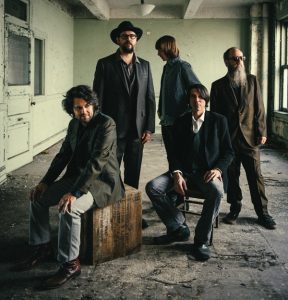 Drive by Truckers recrean ambientes añejos del sur de los Estados Unidos y consigue atmósferas tan densas como el río Missisippi, gracias a la utilización del ataque de sus tres hachas guitarreras y toneladas de actitud.
"The three great Alabama Icons", es la  canción que define perfectamente el universo Drive by Truckers, haciendo lo que Faulkner en sus canciones, con sonidos que evocan al Neil Young más contundente y rasposo, a ultratumba, a guitarras luchando por distorsionar y a micros empapados en saliva.
Para mí, Drive by Truckers,  los "camioneros" (truckers), además de ser una de mis grupos preferidos, son la banda más auténtica surgida en los Estados Unidos en la última década, sin el glamour de Wilco, pero con la energía y autenticidad de Crazy Horse, Creedence Clearwater Revival, Rolling Stones o The Band.
Drive by Truckers son de esas bandas que se salen de la norma, escribiendo historias retorcidas e irónicas, gentes que caen en desgracia económica, lucha de clases, "borrachuzos", desorden, pistolas cargadas para el suicidio, de los Lynyrd Skynyrd con Ronnie Van Zant que de su trágica existencia sacan numerosas anécdotas convertidas en canciones poderosas, y de los asesinatos, en el mundo del Eock, pocos han acertado a describir tan bien lo irracional de esa sociedad armada que padecen los norteamericanos.

Drive by Truckers hicieron su debut con "Gangstabilly" en 1998, desde entonces una docena de álbumes, algunos discos, absolutas obras maestras como "Dirty South", "Decoration Day", "Southern Rock Opera" o "Brighter than creation's dark".
Drive by Truckers siempre en absoluto estado de gracia, mantienen la llamarada de los universos musicales más ricos en la actualidad,  la "Americana Music", marcado por el ritmo de Johnny Cash, una Lucinda Williams y un Steve Earle.
Queremos que vuelvan Drive by Truckers a España, la última vez los vimos en en Madrid en el 2010, luego cancelaron su gira y concierto en el Azkena Rock Festival para telonear a Tom Petty & The Heartbreakers en Estados Unidos, ¡queremos "dirty south Rock"!.
Listado de canciones del nuevo disco de Drive By Truckers "English Oceans".
1. Shit Shots Count
2. When He's Gone
3. Primer Coat
4. Pauline Hawkins
5. Made Up English Oceans
6. The Part of Him
7. Hearing Jimmy Loud
8. Til He's Dead or Rising
9. Hanging On
10. Natural Light
11. When Walter Went Crazy
12. First Air of Autumn
13. Grand Canyon
"Let there be Rock!"
Fotos del concierto de la última actuación en Madrid de Drive by Truckers el 24 de noviembre de 2010 en la Sala Heineken.