The Rolling Stones publicarán el directo de la serie From the Vault, Sticky fingers: Live at The Fonda Theatre 2015 el 29 de septiembre. Quinto lanzamiento de esta serie que recoge conciertos en directo del archivo de los Rolling Stones de los que se están editando sus primeras versiones oficiales.
Este nuevo disco de los Stones Sticky fingers: Live at The Fonda Theatre 2015, se editará en CD, triple LP en) y DVD del concierto que los Rolling Stones ofrecieron el 20 de mayo de 2015 en Fonda Theatre de Los Angeles donde interpretaron íntegramente el álbum "Sticky Fingers", única vez en su carrera.
Escucha aquella actuación de los Rolling Stones Sticky fingers: Live at The Fonda Theatre 2015
Aquello fue el inicio del The Rolling Stones Zip Code , gira por Norteamérica que se prologó durante varios meses.
Los Stones ofrecieron aquel concierto sorpresa (29.5 dólares la entrada) en el precioso Fonda Theatre de Los Angeles ante 1.200 personas (todo agotado), repitiendo de nuevo con un concierto sorpresa en la ciudad de los Angeles como ya hicieran en el 2013 en el Echoplex para celebrar su 50 aniversario ante 700 privilegiados con Mick Taylor como invitado de lujo.
"Sticky Fingers" comenzó a grabarse en diciembre de 1969 y finalizó de grabarse en enero de 1971 entre la casa de Mick Jagger "Stargroves" en Hampshire, Inglaterra, su estudio móvil Olympic Sound Studios y los estudios Muscle Shoals Sound Studios en Alabama (Wild Horses, Brown Sugar, You got to move, Sister Morphine, siendo producido por Jimmy Miller y contando con Mick Taylorintegramente en todo el álbum tras su estreno en algunas canciones de "Let it Bleed" en 1969 tras sustituir a Brian Jones y siendo también el primer disco del sello de la banda The Rolling Stones records.
Mick Taylor dejó su inconfundible sello en todo "Sticky Finger", pero especialmente en "Can't You Hear Me Knocking," "Sway" y "Moonlight Mile".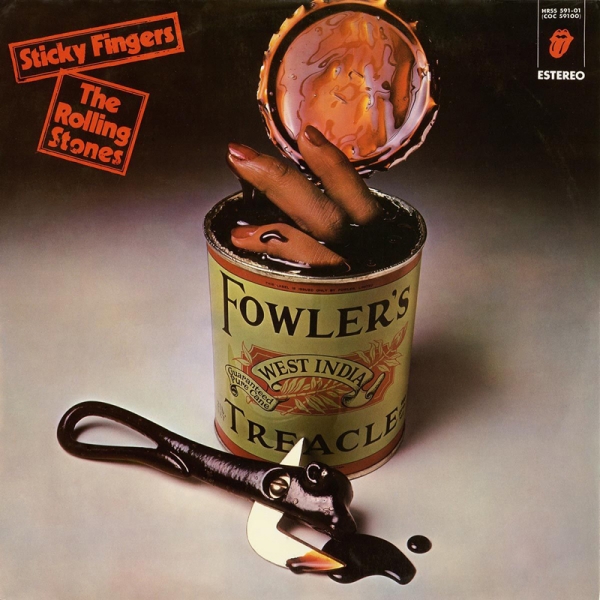 "Sticky Fingers" y su portada original con la cremallera del pantalón fue diseñada por Andy Warhol, en España se censuró aquella portada por otra con la imágen de una lata y unos dedos pegasos, además de no aparecer en el álbum "Sister Morphine" siendo sustituida por una versión de Chuck Berry en directo de "Let it Rock".
Tanto "Sister Morphine" y "Wild Horses" fueron dos temas de Sticky Fingers que fueron grabados y publicados previamente por Marianne FaithFull y The Flying Burritos Brothers.
También el logo de The Rolling Stones hizo su debut en Sticky Fingers, diseño realizado por el británico John Pasche.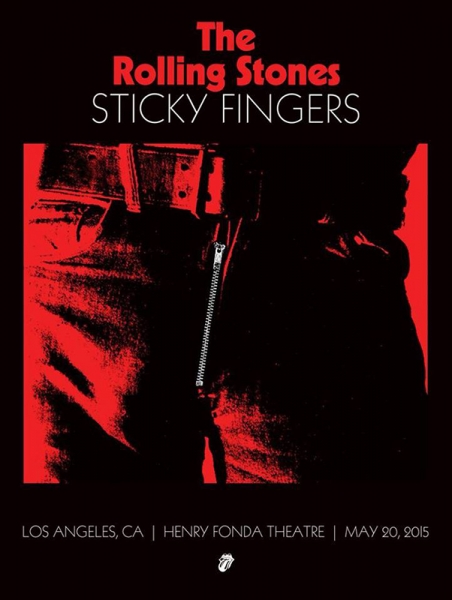 The Rolling Stones contaron para la realización de "Sticky Fingers" con colaboradores de auténtico lujo como Pete Townshend (The Who), Ronnie Lane, Ry Cooder, Nicky Hopkins, Billy Preston, Jack Nitzsche y el famoso pianista y productor Jim Dickinson padre de Luther y Cody Dickinson de North Mississippi All Stars.
Listado de canciones de From The Vault – Sticky Fingers: Live At The Fonda Theatre 2015 de los Rolling Stones en sus diferentes formatos.
DVD:
Start Me Up
Sway
Dead Flowers
Wild Horses
Sister Morphine
You Gotta Move
Bitch
Can't You Hear Me Knocking
I Got The Blues
Moonlight Mile
Brown Sugar
Rock Me Baby
Jumpin' Jack Flash
Bonus tracks:
All Down The Line
When The Whip Comes Down
I Can't Turn You Loose
CD:
Start Me Up
When The Whip Comes Down
All Down The Line
Sway
Dead Flowers
Wild Horses
Sister Morphine
You Gotta Move
Bitch
Can't You Hear Me Knocking
I Got The Blues
Moonlight Mile
Brown Sugar
Rock Me Baby
Jumpin' Jack Flash
I Can't Turn You Loose
3LP
Cara A:
Start Me Up
When The Whip Comes Down
All Down The Line
Cara B:
Sway
Dead Flowers
Wild Horses
Cara C:
Sister Morphine
You Gotta Move
Bitch
Cara D:
Can't You Hear Me Knocking
I Got The Blues
Cara E:
Moonlight Mile
Brown Sugar
Cara F:
Rock Me Baby
Jumpin' Jack Flash
I Can't Turn You Loose