Cale Tyson publicó su segundo álbum «Careless Soul» el pasado mes de abril tras su anterior Introducing Cale Tyson (recopilatorio de sus dos Ep's High On Lonesome (2013) y Cheater's Wine (2014) para presentarlo por primera vez en España en una gira en el mes de mayo de 2017.
Cale Tyson es otra de las jóvenes promesas del Country tradicionalista, otro de los ángeles caídos y herederos de la angustia y Honky Tonk, yodel y twang por parte de este tejano veinteañero ahora en Nashville, grabó «Careless Soul» en los legendarios estudios de Fame Studios en Muscle Shoals en Alabama junto al productor Michael Rinnie, actual bajista de Emmylou Harris and Rodney Crowell, junto a un distinguido grupo de músicos como Jeremy Fetzer (Steelism, Andrew Combs) a la guitarra, Pete Lindberg a la guitarra rítmica, Brett Resnick al pedal steel, Skylar Wilson (Caitlin Rose) a los teclados, David Hood (The Swampers) al bajo, Jon Radford (Steelism, Lilly Hiatt) a la batería, y Jordan Lehning en la sección de vientos.
Escucha el nuevo disco de Cale Tyson «Careless Soul» (reeditado en marzo de 2017 para Europa)
Cale Tyson da un golpe en la mesa con su nuevo disco «Careless Soul» en el que los fantasmas del estudio retrotaen a fantasmas como Phil Spector, Hank Williams, Luther Perkins, Townes Van Zandt o Johnny Cash envolviendo en las doce nuevas canciones del disco esa maravillosa montaña rusa de Country Soul sureño, Gospel, Pop con el muro de sonido que creara Phil Spector ( grabar una serie de pistas de acompañamiento musical superponiéndolas), en definitiva un magnífico álbum con los mejores ingredientes de la música sureña norteamericana, Country, Rock and Roll, Gospel, Soul y esa añadidura de Pop.
Soberbio nuevo disco del vaquero Cale Tyson con este «Careless Soul», de lo mejor de este 2016, que se ha atrevido a grabarlo en un lugar tan emblemático como los estudios Fame, casa de Aretha Franklin, Otis Redding o Duane Allman, entre otros, un álbum de esos que te cubre con sus brazos por la noche.
Cale Tyson quiere adentrarse a esa larga lista de músicos de esta especie en estos momentos como son Paul Cauthen, Luke Bell, Justin Wells, Cody Jinks, Daniel Romano, Brent Cobb, Sturgill Simpson, Chris Stapleton, Ryan Bingham, Dave Rawlings, Whitey Morgan, Bob Wayne, Andrew Combs, Shooter Jennings, Joey Allcorn, Jayke Orvis, Brett Detar, Cale Tyson, J. P. Harris o Brian Alexander.
Fechas de la gira española de Cale Tyson en mayo de 2017:
16 mayo en Bilbao, Kafe Antzokia
17 mayo en Valencia, Loco Club
18 mayo en Madrid, Boite Live
19 mayo en Zaragoza, Rock & Blues Café
20 mayo en Terrasa (Barcelona), Legends Dance Hall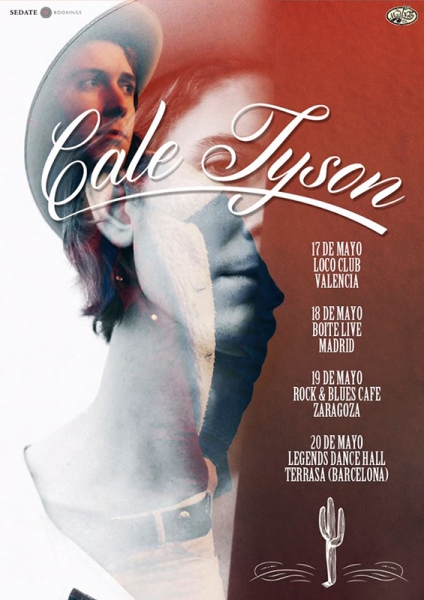 Listado de canciones del nuevo disco de Cale Tyson «Careless Soul».
1 Staying Kind
2 Somebody Save Me
3 Careless Soul
4 Easy
5 Traveling Man
6 Pain In My Heart
7 Railroad Blues
8 Dark Dark
9 High Lonesome Hill
10 Gonna Love a Woman
11 Pain Reprise
12 Ain't It Strange