Jimmy Johnson, uno de los grandes guitarristas rítmicos de sesión, co propietario e ingeniero de los estudios Muscle Shoals Sound Studio y miembro de The Swampers en esos estudios, falleció ayer a los 76 años de edad. Incontable la cantidad de grandísimas canciones que pasaron por sus manos. Desde temas de Wilson Pickett, Arethan Franklin, Lynyrd Skynyrd, Bob Dylan, Willie Nelson, Joe Cocker, Levon Helm, Paul Simon, Bob Seger, Rod Stewart, George Michael,Cat Stevens o los mismísimos Rolling Stones.
Johnson fue miembro de la legendaria sección de ritmo de Muscle Shoals, una banda que se llamaba cariñosamente "The Swampers". El cuarteto, que también incluía a David Hood al bajo, Roger Hawkins a la batería y Barry Beckett a los teclados, quienes primeros compartían estudios en FAME Studios de Rick Hall, antes de fichar por Capitol. Fue cuando los 4 crearon los famosos estudios en la 3614 Jackson Highway cerca de Sheffield, en Alabama. La banda tomó ese nombre del río Tennessee y sus aguas.
Con la pérdida de Johnson y de Barry Barry Beckett hace unos años, los Swampers se queda coja a la guitarra y teclados. De aquella época dorada que comenzó en 1950 en Muscle Shoals, la localidad musical donde todos los géneros musicales confluyeron, y se convirtieron en una sola marca, con el blues, jazz, country, gospel, rock & roll, rhythm & blues, soul y el folk, como géneros predominantes. un pueblo perdido de Alabama que se convirtió en una meca de la grabación de música, con dos estudios de leyenda. Un pueblo perdido de Alabama que se convirtió en una meca de la grabación de música, con dos estudios de leyenda.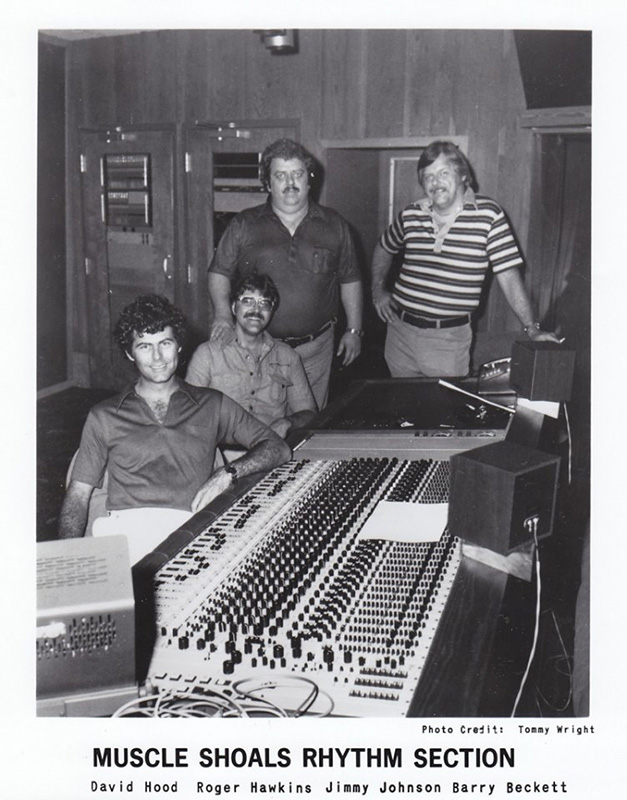 Esta pequeña localidad de poco más de diez mil habitantes, al noroeste del estado de Alabama, muy cerca del Tennessee River, se encuentra F.A.M.E. (Florence Alabama Music Enterprises), la factoría del genio Rick Hall inaugurada en Florence en 1959 junto a otros tres socios y conducida en solitario a partir de 1963 en Muscle Shoals, donde comenzó la historia la hoy mítica región conocida como The Shoals, junto a Muscle Shoals Sound Studios.
Mientras que el éxito de FAME crece, al mismo tiempo su columna vertebral se viene abajo. Es decir, Rick Hall está haciendo una fortuna, pero no así sus músicos. Como consecuencia, los "swampers" abandonan el barco y se establecen por su cuenta. Rick Hall, fiel a la máxima "nadie es imprescindible", reúne a otros músicos que con el tiempo constituirán, sino la mejor sección rítmica de Muscle Shoals, si la más clásica. Jimmy Johnson, Barry Beckett, David Hood y Roger Hawkins, es el nombre cuarteto.
Los Swampers, siguieron trabajando con artistas negros como Wilson Pickett (su 'Hey Jude', con el refuerzo guitarrero de Duanne Allman), R. B. Greaves ('Take a Letter Maria') o los Staple Singers ('I'll Take You There', con la novedad de una base reggae). Pero entendieron que el futuro comercial estaba en aquellos artistas de pop y rock que ansiaban la carnosidad rítmica sureña.
Por el modesto estudio de los Swampers en el 3614 de la Jackson Highway pasaron fugazmente los Rolling Stones, grabando Wild Horse You gotta move y Brown Sugar para Sticky Fingers, junto con el famoso pianista y productor Jim Dickinson, también músico de sesión de Muscle Shoals studios, padre de Luther y Cody Dickinson de North Mississippi All Stars, pero también Rod Stewart, Cher, Lulu, Bob Seger, Cat Stevens, Lynyrd Skynyrd.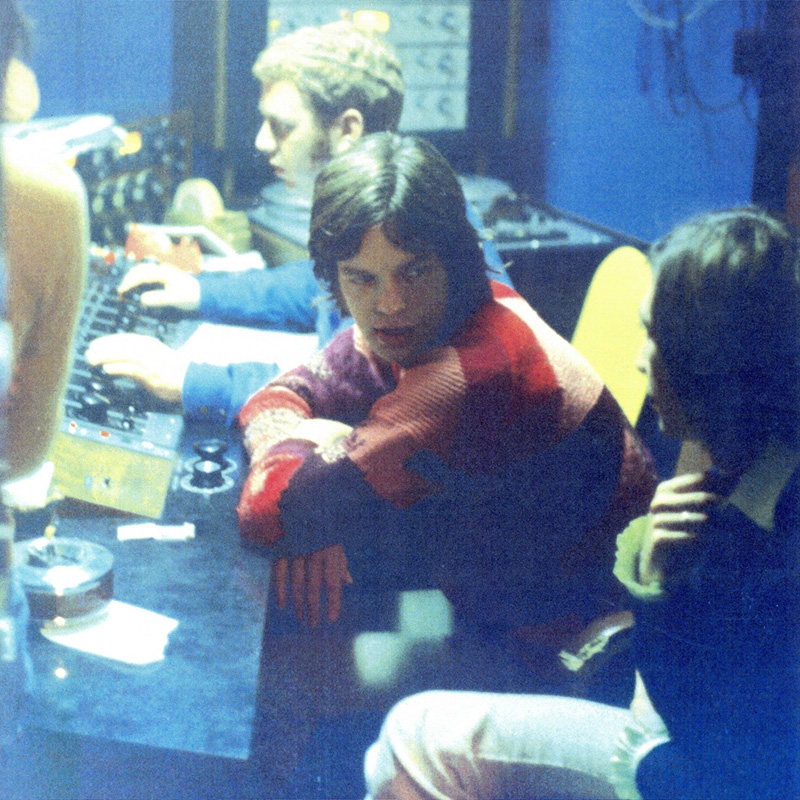 Sin olvidar a Paul Simon y –por separado- Art Garfunkel. El último superventas allí grabado fue 'Brothers', el álbum que, en 2010, presentó a los Black Keys ante el gran público. Y ese estudio es el que ahora, estéticamente renovado gracias a una generosa donación de Beat Electronics (los auriculares de alta gama), aspira a transformarse en un gran destino turístico.
Arthur Alexander "You Better Move on".
Etta James "Tell Mama".
Aretha Franklin "I Never loved a man (The way I love you)
Aretha Franklin, Wilson Pickett, Otis Redding, Joe Tex, Duane Allman, The Hour Glass, Clarence Carter, Candi Staton, Mac Davis, Paul Anka, Tom Jones, Etta James, Andy Williams, The Osmonds, Shenandoa, Jason Isbell and the 400 Unit, Matisyahu, Band of Horses, Drive by Truckers, Dylan LeBlanc, o Bettye Lavette para FAME Studios, y The Rolling Stones, Traffic, Elton John, Boz Scaggs, Willie Nelson, Paul Simon, Bob Dylan, Lynyrd Skynyrd, The Staple Singers, Booker T & The MGs, Isaac Hayes, Dr. Hook, Elkie Brooks, Alabama Shakes o The Black Keys posteriormente para Muscle Shoals Sound Studio, son algunos ejemplos de este preponderante zona de grabación musical.
Wilson Pickett y Duanne Allman "Hey Jude"
Canciones como "Sweet Home Alabama", "I'll Take You There," "Brown Sugar," "When a Man Loves a Woman," , "Wild Horses", "I Never Loved A Man the Way That I Loved You," "Mustang Sally," "Tell Mama," "Kodachrome," "Sitting in Limbo," "Freebird" o "Mainstreet" fueron grabadas en esta zona, donde a la localidad de Florence, en Muscle Shoals, se le conoce como el lugar donde nació en Blues y a W.C. Handy, se le conoce como el padre del Blues.
Bob Seger "Get out of Denver"
Bob Dylan "Gotta serve somebody"
Muscle Shoals Sound Studio, se fundó después de F.A.M.E., en 1969, en el que cuatro músicos de sesión, de genios como Otis Redding, Wilson Pickett, y Aretha Franklin, como Barry Beckett (a los teclados), Roger Hawkins (batería), Jimmy Johnson (guitarrísta) y David Hood (bajista y padre de Patterson Hood de Drive by Truckers, conocidos como The Swampers.

Muscle Shoals, bajo la influencia india de sus primeros pobladores, se le conocía como el "Singing River" (Río cantante), Gregg Allman, Bono, Clarence Carter, Jimmy Cliff, Aretha Franklin, Mick Jagger, Etta James, Alicia Keys, David Hood, Keith Richards, Percy Sledge, Donna Jean Godchaux, son algunos de los invitados que aparecen en el esperadísimo documental, estrenado hace unos años en el Sundance Film Festival en Park City, Utah. Jimmy Johnson DEP.
The Black Keys "Unknown Brother"